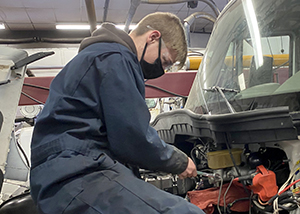 Burnt Hills-Ballston Lake high school senior Nicholas Grock can say he is actually "livin' the dream" as he learns to keep big rigs and heavy equipment up and running.
"My dad is a diesel mechanic and I would love to become a diesel mechanic," said Grock. "I have been turning wrenches since I was five years old and this is what I want to do."
In our two-year, nationally certified Diesel Technology program, Grock and his classmates work on late-model trucks and diesel engines to gain skills and knowledge, learn electrical and electronic theory. They then apply what they know to computerized control systems used on today's trucks and learn vehicle air conditioning recovery and recycling service procedures.
"We do everything—working on engines in the first year, then getting into truck bays to actually work on the trucks and see how it all comes together," Grock said.
Grock is excelling in the program, having won a state SkillsUSA diesel engine repair competition during his junior year and earning the right to compete at the national competition.
"I don't feel like sitting at a desk all day. I like to be up, doing things, turning wrenches and learning," Grock explained, making a high school education in our Career & Technical School program a "no-brainer."
Learn About Our Career & Technical Education Programs
The  Diesel Technology program is one of more than 40 programs offered on one of three campuses for high school students. Learn about the many courses available to through our Career & Technical School.