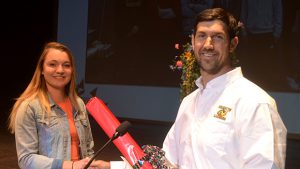 Aspiring carpenter/contractor Taylor Vincent recently received the Curtis Lumber Golden Hammer Award recognizing her as the top senior in the Albany Career and Technical School (CTE) building trades program. She was also presented during a June 6 ceremony at Proctors Theatre with the program's Outstanding Student of the Year award.
"In my 28 years here, she is easily the most talented, the most skilled carpenter I have seen," said Paul Roberts, building trades teacher on the Albany CTE campus. "She is an all-around excellent student."
Ian Young, a representative of Curtis Lumber Co. and a member of the Building Trades Advisory Committee presented Vincent with a set of levels to be used in her future endeavors.
Taylor will attend Hudson Valley Community College (HVCC) in the fall with plans to open her own contracting/carpentry business.
"She will be able to go anywhere she wants with her skills," Roberts said.