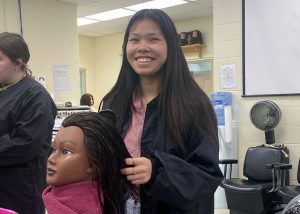 Jordan Woods, who recently competed our Cosmetology program, credits the program with teaching her much more than just hair styling skills.
"The Cosmetology program has so many opportunities for you other than just playing with hair.  By going to BOCES, I have learned  professionalism, science, problem-solving skills, communication skills, confidence and so much more," said Woods.
Woods entered the cosmetology program as a senior at Schalmont high school and concluded it the next year as an adult student, graduating in June 2022. Along the way, Woods was inducted into the National Technical Honor Society, earned the 1,000 hours needed to become a licensed cosmetologist and gained copious amounts of skills.
"I loved doing clinic hours and meeting new people, making professional connections, meeting new friends and learning skills such as four-layer facials," Woods said. "The program taught me so many real-life skills that will help me in the future working in a salon and when I further my education by going to barbering school or esthetician school. 
Learn About Our Career & Technical Education Programs
The Cosmetology program is one of dozens of programs offered for high school and adult learners. Students in the program gain the skills and 1,000 hours of training and experience needed to take the New York State licensure exam. The experience prepares students to enter the workforce upon graduation or to go to college, and helps them gain a competitive advantage in the business.
Learn about the many courses available to through our Career & Technical Education Center.