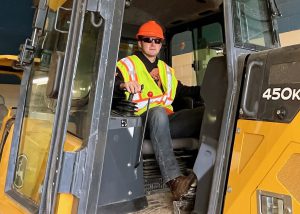 October is Careers in Construction Month—a time to recognize the importance of the construction trades in America. Throughout the month we will be highlighting the important role Capital Region BOCES plays in supporting the construction industry, locally and nationally.
It would not be an exaggeration to say Alex Stapf is driven to succeed.
Following the advice of his grandfather and partnering it with an education at Capital Region BOCES, the high school senior has already opened his own business—even taking the legal steps required by the state and financial institutions.
Now the Voorheesville 17-year-old is "grinding" away at his chosen career, while also gaining the knowledge he needs to succeed at Voorheesville High School and the Capital Region BOCES Career & Technical Education Center – Schoharie Campus.
Stapf formally opened Stapf's Dirt Work and Grading six months ago and hired his first employee, classmate Matt Kraft.
"My grandfather always told me if you want to make money, you have to own your own company and be willing to work hard and he is right. I looked into how old you had to be to open a business and on my 17th birthday, I went to City Hall and filed it with the DBA," Stapf said. "That allows me to get insurance, take out loans and do other things."
The ambitious teen said business has been good.
"We had some grading jobs, we did a couple of stump removals and the tractor I have has a mower attachment, so I did some lawn care," he said while preparing to operate equipment in our Construction/Heavy Equipment program.
Stapf plans to build the business upon graduation from BOCES and Voorheesville High School.
"My goal is to add larger equipment, hire more employees and earn a salary of $300,000 after expenses," Stapf said.
Hard Work Is "In His Blood"
Stapf said heavy equipment operation and hard work is in his blood.
"I grew up doing it. I really like the respect you get from the older generation when they see a young kid like myself ready to work hard and sweat and have the skills that are needed," he said.
Kraft said working for his classmate was "fun."
"I am doing what I truly enjoy doing and the money I make from the jobs is truly mine," he said. "It is giving me a lot of experience in operating equipment and learning," he added.
The Voorheesville senior praises BOCES for building on his motivation and drive and giving him the tools needed to start his own business.
"In the one-and-a-half years I have been at BOCES, I have learned a lot and I will only grow from here. I have learned responsibility, teamwork, time management, problem solving, communication and how to drive a dump truck. These are tools that will help me succeed in the future," he said.
Stapf's ambition and drive is winning him praise among Capital Region BOCES faculty and administrators.
"Alex's self-motivation, integrity, responsibility and excellent work ethic combined with the skills that he is gaining at BOCES has prepared him for a successful future," Business Liaison Nancy Liddle said. "He is a role model for his classmates and a true businessman at 17."
Construction Heavy Equipment Teacher Matt Millard added, "Alex is a very driven student. I remember last year he had stated he was going into business and had already started the process. It is great to watch and help them to reach their future goals."
Learn About Our Career & Technical Education Programs
The Construction/Heavy Equipment program is one of nearly 40 programs offered for high school students. Through the program, students learn the knowledge and skills required to enter the construction and equipment operator industries or pursue further education in college or technical school. 
Learn about the many courses available to through our Career & Technical Education Center.