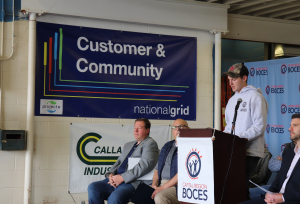 Hundreds of chefs, contractors, heavy equipment operators, soldiers, state troopers and nurses got their start at the Capital Region BOCES Career & Technical Education Center – Schoharie Campus during its five decades of existence.
On Oct. 14, BOCES leadership joined by dignitaries from government, business and education gathered to honor the 50th anniversary of the campus and celebrate its valuable role the development of the workforce on the county, state, and regional economy.
"The relationship between Callanan and BOCES has been fundamental not only for our own recruiting purposes, but for building relationships with students throughout the region," said Callanan Industries, Inc. Vice President of Equipment & Operations Dan Broomhall.
Callanan has worked with BOCES for the entirety of the Schoharie Campus' existence and was honored for its commitment during the ceremony.
National Grid Director of Customer and Community Engagement Laurie Poltynski praised BOCES for building the workforce of today and tomorrow.
"We need students to run the machines to build the infrastructure of the future," she said.
Meanwhile Assemblymember Chris Tague and New York State Department of Agriculture and Markets Commissioner Richard Ball recognized BOCES for its pivotal role in workforce development.
"We need people who can think with their heads and their hands to fill the jobs that are out there," said Ball, who is owner of The Carrot Barn and a partner with BOCES.
Tague, who represents the 102 Assembly District, added a personal note to his praise for BOCES, recalling how he graduated from the Schoharie Campus in 1987.
"I am not a product of Harvard, Princeton or Yale, I am a graduate of Schoharie BOCES," he said. "I owe all of my success in my business life to the lessons I learned here."
He went on to urge students to not miss out on the opportunity that BOCES affords them.
"BOCES is a life-changing, life affirming opportunity for you," he said.
The Oct. 14 celebration included an antique auto show, chicken barbecue, recognition of Callanan Industries and a presentation by National Grid of a workforce development grant that is being used to purchase simulators for students in the construction/heavy equipment programs. The simulators will allow students to safely learn their equipment operator skills before getting in the driver seat of bulldozers, backhoes and more.
Programs galore
The campus is currently home to eight programs – Automotive Trades Technology, Commercial Construction/Heavy Equipment, Cosmetology, Criminal Justice, Culinary Arts and Hospitality Technology, Electrical Trades, Residential Construction/Heavy Equipment and Two-Year Sequence of Health Careers.
Students and graduates alike praise the campus for giving them a solid foundation on which to build their careers.
"I am doing what I enjoy and love. The money I make from the job is truly mine," said BOCES senior Alex Stapf, who started his own business Stapf's Dirt Work and Grading and hired a classmate.
"In my time at BOCES, I have learned responsibility, teamwork, time management, problem solving, communication and how to drive a dump truck," he added.
"There are so many other schools that don't get you ready, but BOCES does the work to make sure students are prepared," said Elizabeth Sommers, a 2018 graduate of the Cosmetology program.