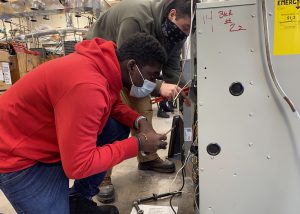 Thanks to the advice of his uncle and the Capital Region BOCES Career and Technical School, a Mohonasen High School senior is prepared for a career that is projected to grow 13 percent over the next decade.
Even so, Tirajae Pierre plans to continue learning after he graduates from Mohonasen and the BOCES Career and Technical School Heating, Ventilation, Air Conditioning and Refrigeration (HVAC/R) program by attending college to advance his knowledge of carpentry and other skilled trades.
"I am going to stay with HVAC, but I want to expand my skill set and learn other skills that can broaden what I have to offer," said Pierre during a recent break from repairing a furnace.
Pierre enrolled in BOCES as a junior based on a relative's suggestion.
"I have an uncle that did this and he said it would be a fun career," he said.
Pierre continued with the program because he enjoyed the knowledge and the ability to work with his hands.
"I really like HVAC because I am learning how to take care of important equipment and make money while doing it," he said, adding that he especially
likes "soldering and brazing."
Pierre is one of nearly three dozen students learning the skills necessary for a career working in heating, refrigeration, cooling or all of the above. In a state-of-the art classroom, HVAC/R students learn the "ins and outs" of ventilation, piping, refrigerants and refrigeration, furnaces and boilers, while having an opportunity to interact with major industry employers.
Enrollment is Underway
Enrollment is currently underway for the 2022-23 school year. Learn more information about our career and technical school programs.