The annual Capital Region BOCES National Signing Day was a success with 30 high school students signing letters of intent and a crowd of more than 180 business, family, labor and education supporters watching.
During a ceremony on Thursday at the Career & Technical Education Center – Albany Campus, dignitaries celebrated the students as well as the valuable role BOCES plays in preparing students to become contributing members of society and the workforce.
"BOCES is creating the necessary and magnificent talent needed for what many of us are calling the building and infrastructure generation," said Crickett Thomas-O'Dell, Statewide Pre-Apprentice Program Coordinator and Director of Community Engagement, Workforce Development Institute.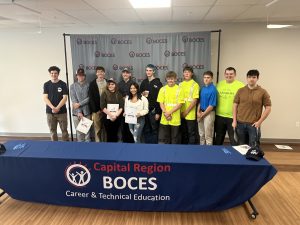 "Without workforce development, we cannot have economic development," she added.
The event was affiliated with the SkillsUSA National Signing Day, which mirrors the NCAA's National Signing Day for athletes who commit to play sports in college. It is designed to honor students who are entering a technical field and to celebrate the dignity of work.
"Pursuing your career now is as important as going to a four-year college or playing a sport," Capital Region BOCES Senior Executive Officer Joseph P. Dragone, Ph.D. told the students.
Among those speaking at the event were Assemblymember Mary Beth Walsh; Chris Pinheiro, Director of Apprenticeship, New York State Department of Labor; Katie Newcombe, Chief Economic Development Officer, the Center for Economic Growth; and Todd G. Helfrich, President and CEO, Eastern Contractors Association.
"Students and leaders are here today, and they are already making a difference," Newcombe said. "Whenever we are talking to a company about locating here or growing here, Capital Region BOCES is part of my selling point."
Among the students signing a letter of intent was Jackson Stone of Guilderland, who is taking the skills he learned in the Capital Region BOCES Manufacturing & Machining Technology program to work for Package One, Inc.
"Attending this program has taught me all of the skills I need to start, as well as integrity and work ethic. This is amazing," said Stone.
Tyler Harnett, a Berne-Knox-Westerlo senior, agreed.
"It feels great to have a job lined up. You come to BOCES, learn and you get a reward for your hard work," said Harnett, a Construction/Heavy Equipment student who is going to work for The Laborer's International Union of North America, Local 157.
Cosmetology senior Olivia Harris signed a letter of intent to work for Lauren Elizabeth Salon.
"I am extremely excited. I look forward to being able to experience new things, do more hair, and meet new people," the Mohonasen student said.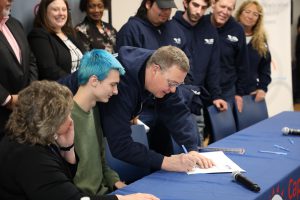 Mark Westcott of TCI Inc. of NY said his firm's partnership with BOCES, which led to the signing of Dakota Moak of Cobleskill-Richmondville, has already paid dividends for the company.
"Dakota is a fine young man and we look forward to him coming to work for us," he said.
"Whenever BOCES students come to work with us, they come ready to work and with the skills they need," he added.
Helfrich, the president and CEO of the Eastern Contractors Association, said there is no shortage of demand for workers with the skills of Capital Region BOCES graduates.
"There are daily job openings in our industry right now and half of our industry is able to retire in the next few years," he said.
Pinheiro and Walsh praised the work the students have undertaken already.
"The work you have done at BOCES has already provided you with the real world job skills you need to succeed," Pinheiro said.
"Congrats to everyone who is signing today. I am celebrating with all of your families, educators and friends the great work you have done," Walsh said.
Students signing letters, their Capital Region BOCES program, home school district and employer are as follows:
Devon Blunt, Automotive Trades Technology, Destination Kia, Schenectady City School District
Daniel Bradt Jr., Construction/Heavy Equipment, J.H. Maloy/The Laborers' International Union of North America Local 157, Cobleskill-Richmondville
Francis Broadhurst, Jr., Building Trades, UA Local 7 Plumbers and Steamfitters, Ravena-Coeymans-Selkirk
Tucker Cherry, Automotive Trades Technology, Capitaland Motors, Niskayuna
Aidan Conti, Building Trades, North Atlantic States Regional Council of Carpenters, Guilderland
Anthony DiMatteo, Automotive Trades Technology, Capitaland Motors, Schalmont
Corey Franklin, Criminal Justice, Union College, Guilderland
Ryan Gaida, Construction/Heavy Equipment, J.H. Maloy/The Laborers' International Union of North America Local 157, Cobleskill-Richmondville
Evan Garrison, Diesel Tech, United Road Service
Cameron Harless, HVAC/R, Crisafulli Bros. Plumbing & Heating Contractors, Inc., Berne-Knox-Westerlo
Tyler Harnett, Construction/Heavy Equipment, The Laborers' International Union of North America Local 157, Berne-Knox-Westerlo
Olivia Harris, Cosmetology, Lauren Elizabeth Salon, Mohonasen
Devon Hotaling, Construction/Heavy Equipment, LeChase Construction, Services, LLC/The Laborers' International Union of North America Local 157, Schoharie
Caleb Johnston, HVAC/R, Piedmont Airlines, Shenendehowa
Nate Lupi, Construction/Heavy Equipment, The Laborers' International Union of North America Local 157, Berne-Knox-Westerlo
Dakota Moak, Electrical Trades, TCI of NY Inc. , Cobleskill-Richmondville
Luke Napierski, Construction/Heavy Equipment, New York State Department of Transportation, Voorheesville
Tanner Nixon, Automotive Trades, R & D Automotive – The Bavarian Rocket Scientists, LLC, South Colonie
Zachary Perrott, Construction/Heavy Equipment, J.H. Maloy/The Laborers' International Union of North America Local 157, Schoharie
Dylan Poirier, Diesel Tech, United Road Services, Bethlehem
Jake Porter, Building Trades, AOW Associates, Inc./North Atlantic States Regional Council of Carpenters, Ravena-Coeymans-Selkirk
Reuel Raju, Automotive Trades Technology, Destination Kia, Schenectady
Dan Ralston, Building Trades, AMC Contracting/North Atlantic States Regional Council of Carpenters, Guilderland
Thomas Reynolds, Construction/Heavy Equipment, Bricklayers & Allied Craftworkers Local #2 New York, Sharon Springs
Octavia Rice, Automotive Trades Technology, Capitaland Motors, Burnt Hills-Ballston Lake
Kaitlyn Rose, Early Childhood Education, Little Scholars Learning Center Inc., Schalmont
Jackson Stone, Manufacturing & Machining Technology, Package One, Inc., Guilderland
Anthony Tamaroff, HVAC/R, Eastern Heating & Cooling Inc., South Colonie
Jeremiah Taylor, Construction/Heavy Equipment, AOW Associates, Inc./The Laborers' International Union of North America Local 157, Schoharie
Scott Walters, Construction/Heavy Equipment, Conestoga Builders, Cobleskill-Richmondville