Approximately 80 students from across the Capital Region gathered for the first annual Elevating Student Voices Youth Summit on Thursday, April 20 at Proctors Theater in Schenectady.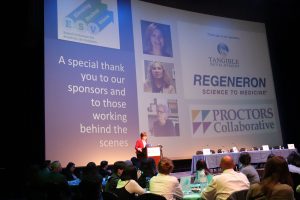 This special event, sponsored by Regeneron, Tangible Development and Proctors Theater, celebrated students from school districts in Albany, Saratoga, Schenectady and Schoharie counties who joined together with their peers through the Elevating Student Voices program to share their ideas, their lived experiences and their voices in discussions on issues ‒ such as race, gender, mental health ‒ that impact them and their communities. The youth-driven conversations were coordinated by the Capital Region BOCES in partnership with component school districts.
Proctors Collaborative Chief of Staff Jean Leonard welcomed Capital Region students to the first annual event, and encouraged them to "try new food," a metaphor she used for being open to new, diverse and inclusive experiences.
"Everybody doesn't have to be the same, we aren't the same. Surround yourself with people you trust. Encourage diversity of thought. Be vulnerable," Leonard advised. "Unlock the circle and let everybody in to 'try new food.'"
Students celebrate the Elevating Student Voices initiative
The Youth Summit offered an opportunity for students to celebrate their vision for the Elevating Student Voices initiative. Students presented the activities and actions plans they created to raise student voices in their schools and engaged with peer leaders and community partners to discuss future steps to promote stronger culturally responsive schools.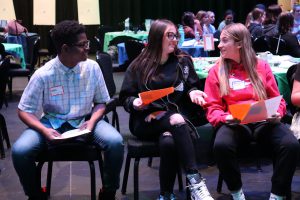 Project adviser Eva Jones, who helped implement the Elevating Student Voices program, thanked the 84 students from 11 school districts for taking the lead and sharing their powerful insights in conversations throughout the year. "Our student leaders did important work, not least of which was making space for those who are often silent," she said.
Michael Arterberry, Executive Director and Founder of the Youth Voices Center, Inc. (YVC) presented the keynote address. Arterberry has devoted his life to improving the lives of New York's youth navigating issues of poverty, neglect, and racial inequity through his Power of Peace program, a positive youth development initiative that focuses on leadership, teamwork, collaboration, decision-making, respect for others and self, and cultural awareness.
Arterberry dished his "dirt" with students ‒ his story about growing up in poverty and coping with feelings of shame and pain.
"We all have dirt. Like the donkey in the story, we have to shake off the dirt,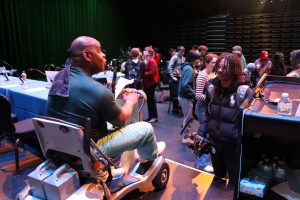 and step on it to survive," he said. "Our dirt is our transportation not our destination. Understand that. If you allow only negative thoughts ‒ allow the dirt to lead you ‒ then you're the passenger, not the driver of your car. Take back your keys and be the driver of your car."
During the event, student facilitators led circle discussions asking their peers for feedback on the Elevating Student Voices program: what worked, what didn't work, their personal takeaways and a wish list for the future.
"I like that everyone is very respectful, always," another student shared.
"I have a support system with my friends," said one Schenectady student. "But I have a new support system here."
"Sharing our personal experiences, and just being able to be ourselves," a third student added.