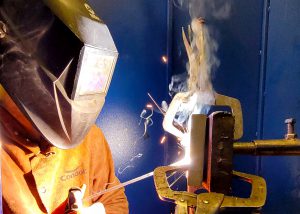 Recent graduates of our adult Welding and Metal Fabrication program have ensured bright futures for themselves in a "hot" job market. 
Graduates include those looking to gain promotion at their current job, others who had found college just wasn't for them, and still others looking for a hands-on career.
Congratulations to our June 2021 adult Welding and Metal Fabrication grads:
Patrick Jacobs, Schenectady
Christien Edick, Rotterdam         
Sophia (Hawke) Franzese, Watervliet
Thomas Miller, Delmar
James Roche, Niskayuna
Michael Hawron, Cohoes
Jared Rubin, Guilderland
Skilled Trade Offers Job, Growth Potential
Welding and Metal Fabrication teacher Don Mattoon said many of this year's graduates have lined up new jobs or promotions.
That would be because like many of the skilled trades, there is a dramatic shortage of workers. The American Welding Society predicts a deficit of 400,000 welders by 2024 due to retirements.
Capital Region BOCES Supervisor of Adult Education Program Maria Huntingon said welding and metal fabrication and our other adult education programs are designed to meet the needs of learners and business owners alike.
"These programs are great for adults who are interested in hands-on training that allows them to apply for jobs in an in-demand industry.  BOCES is fortunate to have qualified instructors who can go beyond the typical textbook instruction and teach troubleshooting, installation and the business aspect too," she said.
Taught by experts from the industry, the 500-hour adult Welding and Metal Fabrication program provides learners with the skills employers need, and the certifications needed to turn students into valuable members of this workforce.
Learn about training and certification available in Capital Region BOCES' adult Welding and Metal Fabrication program, and dozens of other courses available to adult learners through our Career & Technical School.