A partnership between Capital Region BOCES, SUNY Cobleskill, New York State Department of Transportation and Anderson Equipment Company is helping area high school students gain new skills that will strengthen their employability.
Students in the Construction/Heavy Equipment program on the Capital Region BOCES Career and Technical Education Center – Schoharie Campus recently completed training in hydraulics and hydraulic repair led by experts from the college, NYSDOT, and Anderson Equipment Co.
"The training allows students to gain professional skills that they can use to build their resume and expand their employment options," said Nancy Liddle, Managing Program Coordinator-Business & Community Partnerships for Capital Region BOCES.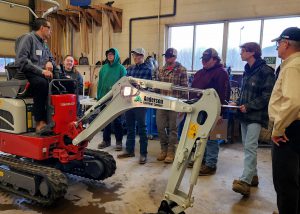 Students say they enjoyed the training.
"I thought it was cool to understand how things around us work and how these companies have job opportunities for us," said Trenton Swartout, who attends BOCES from Cobleskill-Richmondville High School.
Business partners also found the event rewarding.
"We are so pleased to continue to partner with Capital Region BOCES," said Anderson Equipment's Ed Wallace. "Supporting student education is part of the mission of Anderson Equipment, and we truly believe real-world experiences are important for students, not only to engage in learning but to discover viable career pathways."
Learn more about partnering with us
Capital Region BOCES works with more than 300 business, education and labor partners – like Anderson – to provide training and career opportunities to the 1,200 students enrolled in Career & Technical Education programs at Capital Region BOCES.
To become a BOCES business partner, please contact Capital Region BOCES Managing Program Coordinator – Business & Community Partnerships, Nancy Liddle at nancy.liddle@neric.org.