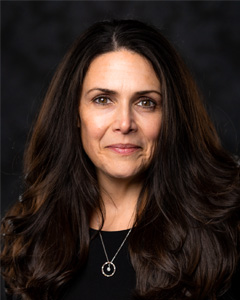 At a special meeting on Wednesday, May 24 at 5:30 p.m., the Capital Region BOCES Board of Education voted to appoint Lauren J. Gemmill to the position of district superintendent.
Gemmill has served as the Capital Region BOCES deputy district superintendent for the last four years. Before that, she was the assistant superintendent for instruction in the Niskayuna Central School District for five years. She is also a state board member for the New York State Association for Women in Administration (NYSAWA), working to support women in educational leadership.
Gemmill's appointment to the position of district superintendent will be effective as of July 1, 2023. She replaces Anita Murphy, who is retiring at the end of June.
"Capital Region BOCES is a state-wide leader in providing opportunities and access to all students. From urban to suburban to rural, our BOCES supports a diverse population of students and districts and is unequivocally committed to their success. It is an exciting thing to be a part of," Gemmill said. "I'm humbled and honored to be selected as the next leader of this great organization. I look forward to working with the board, administration, staff, and component districts to move forward the great work currently underway—and to identify where we can grow further and continually develop our region."
"Lauren has a demonstrated track record of strong leadership, both here at Capital Region BOCES and in the districts where she has worked previously. In selecting our next leader, the board was looking for someone who could continue the work of our BOCES, build and maintain strong relationships with our staff and component districts and be a strong representation of our BOCES and districts at the State Education Department," said BOCES Board President John Phelan. "In talking to Lauren throughout the selection process, it was clear that she understands the impact that a BOCES district superintendent can have on the educational experience students receive in all corners of our region."
A Proven Leader In Education
As deputy district superintendent, Gemmill currently collaborates daily with the district superintendent and senior executive officer on all facets of leadership and education for the Capital Region. This includes working closely with the component school district superintendents, their leadership teams, and their boards of education. She is also involved in business and higher education partnerships and capital construction projects for the BOCES, including the new Career and Technical Education and Special Education schools.
Gemmill is responsible for the BOCES' Career & Technical Education, Special Education and Educational Support Services divisions, which have experienced 30 percent growth in recent years. This includes the Dream Consortium, which provides lending libraries for dozens of school library systems in the state. Gemmill also supports a regional Superintendents' Equity Committee that provides training and support to educators. Additionally, she has overseen a variety of community-based programs and the development of school-based mental health clinics.
During the COVID-19 pandemic, Capital Region BOCES led a regional effort to support the health and safety of students and staff while ensuring that learning opportunities for the region's students continued to the extent possible. Gemmill oversaw the development of Essential Education, an online curriculum resource that could support virtual or hybrid learning models. The resource, created by a team of 200 Capital Region teachers and leaders, was made available to districts nationwide. To date, over 80,000 educators and leaders have accessed Essential Education.
Gemmill has also worked with BOCES leaders and staff to develop a K-12 virtual school. The Cooperative Virtual Learning Academy (CVLA) serves students who cannot attend traditional schools. While it was created during the pandemic to support students and districts during the health emergency, the school continues today and is attended by students from throughout New York.
"Our BOCES led the way throughout the Capital Region and New York during the pandemic. We saw the needs of our districts, students and families and acted in any way we could to meet those needs. As a result, we have created an incredible regional model for effective collaboration between the component districts and the BOCES. I look forward to continuing to grow this model and expand on everything the leaders in this region have accomplished together," Gemmill said.
"The districts in New York's Capital Region provided students with a level of education that was not seen in other parts of the state and the country during the pandemic. This was in many ways due to the hard work and leadership the districts received from Capital Region BOCES, including Lauren J. Gemmill and her team," said Guilderland Central School District Superintendent Marie Wiles. "The BOCES-district partnership is critical to the success of all our schools. I'm confident Lauren will be a good steward of this partnership and that there are great things to come."
In supporting the component school districts in the Capital Region, a key role of a BOCES district superintendent is serving as the liaison between the State Education Department and school district officials. In her current role, Gemmill works daily with State Education Department staff, Capital Region superintendents and other local education leaders on matters related to state regulations and other education issues. Gemmill has also facilitated several superintendent searches, board and superintendent retreats and various regional advocacy efforts.
Within the organization, Gemmill has taken steps to enhance the experience for faculty and staff, ensuring their professional growth. To do this, she restructured the BOCES-wide Professional Development Committee to include representatives from each of the BOCES' six divisions. She also regularly engages with leaders of the various bargaining units within the BOCES to address challenges and provide support.
Through her role with NYSAWA and her relationships with educators across the country, Gemmill also actively supports women education leaders through coaching, mentoring and sponsorship.
Before becoming a central office administrator, Gemmill served as an elementary school principal in Niskayuna and an academic administrator in the Shenendehowa Central School District. She began her career as an elementary teacher in both Shenendehowa and the Corinth Central School District. Gemmill holds a bachelor's degree in elementary education, a master's degree in reading, and a certificate of advanced studies in educational administration and policy studies from the University at Albany.