May 2022 Commitment Award For Service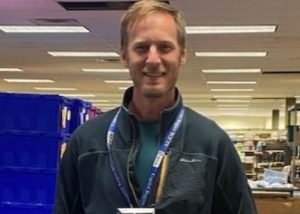 John Florussen, managing program coordinator with our Educational Support Services (ESS), has received the May 2022 Commitment Award for Service.
In nominating Florussen for this award, Director of Educational Support Services Kelly Masline had this to say:
"John is a tremendous asset to the Educational Support Services team and to BOCES. John is always a positive, thoughtful, and willing contributor to our team. 
[When its former manager retired], John quickly became familiar with our  STEM Instructional Materials service so that there would be no break in service to our school districts. He learned enough about the science kits to comfortably discuss with districts the best pathway for implementation—always providing them with the best possible service. It was under John's leadership that we had a few new districts join the service this year, and he meets with each new district to provide them with all of the resources they need to be successful with implementation.
John also meets with the regional science committee quarterly, along with the CCSSO (science directors from across the region), and again is a valuable contributor. All of this is in addition to his role overseeing and growing our Textbooks for Non-Public Schools service.
Too,  John serves as a member of the ESS professional development planning committee and helps to plan Odyssey of the Mind.
Over the past year, John has been working with his team as they continue to get settled into their new space at our [900 Watervliet-Shaker Road offices.] This has required a great deal of coordination and planning to ensure a smooth transition. When challenges arise, John is thoughtful about possible solutions. His positive attitude has helped his team transition to the new space successfully. The level of service he provides to our component school districts, and those out of our region who utilize the textbook and kits services, is exceptional."
Congratulations and thank you for all you do, John! 
The Commitment Awards were established to recognize employees who embody each commitment to a significant degree, and is one part of a three-tiered recognition program to build a culture of gratitude through acknowledgment and appreciation. Our Commitments — SERVICE, VALUE, EXCELLENCE, IMPROVEMENT, LEADERSHIP — embody what we do and who we are.