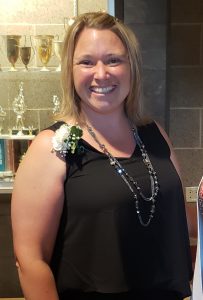 Heather Soroka has joined the BOCES Board of Education as its newest member. She was unanimously appointed by the board at its regular meeting on August 20, 2018 to fill a position left vacant following Board Member Jeffrey Bradt's resignation in June. 
Soroka currently serves as vice president of the Watervliet City School District board and is employed as the secretary to the chief information officer in the Office of Information and Technology for the SUNY System Administration.
Soroka is a lifelong resident of Watervliet and graduate of its schools. She is active on a number of district committees, including its Policy Committee and the Class Rank Committee, and is also a member of the Watervliet Elementary School Parent Teacher Association (PTA). Additionally, she volunteers for many school activities that her children are involved in, and is a volunteer who actively supports the Watervliet Little League program.  
In compliance with state law, Soroka will hold the position until the seat is up for election in April 2019.