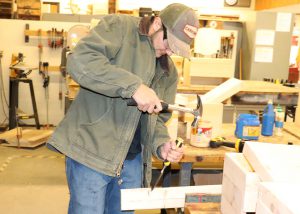 October is Careers in Construction Month—a time to recognize the importance of the construction trades in America. Throughout the month we will be highlighting the important role Capital Region BOCES plays in supporting the construction industry, locally and nationally.
A Schalmont High School graduate found the right career for himself at our Career & Technical Education Center, and is now building a solid future with a local union.
Dillon DiGirolamo said the wide variety of careers he was exposed to through the Construction/Heavy Equipment program allowed him to find the perfect fit with the Carpenters Local No. 291 in Albany.
"Capital Region BOCES helped me immensely in finding a career that I enjoy by bringing our class to various union halls, helping me to create a resume and making sure it was thorough so that I could get hired," said DiGirolamo.
DiGorolamo is now a third-year apprentice with the union and is employed by AOW Associates where he preps and assembles concrete forms. He has previously worked on the Gilboa Dam assembling concrete forms, pouring footings, walls and floor slabs.
"A Career You See Yourself Doing Every Day"
"I really enjoy the work," he said. "You have to choose a career you see yourself doing every day and I was lucky to have BOCES help me do that."
The graduate said BOCES not only helped him choose the right career, but also provided him with the skills necessary to succeed in his chosen path. He specifically credited retired teacher Bill Rouleau with guiding him and making it fun.
"Anytime I was working with Mr. Rouleau, I had a great time. He had a way of making everything fun and enjoyable," he said. "If it weren't for him, I wouldn't be where I am today."
BOCES officials praised DiGirolamo for his hard work and dedication.
"Dillon's passion for the trades was evident when he entered CTE as a Junior. His professionalism, motivation and work ethic are among the many skills that he expanded while attending CTE," said Nancy Liddle, senior business liaison for Capital Region BOCES.
"Dillon was a young man who may have not had an exact idea of where in the construction industry he might end up, but he took the program and the opportunities it afforded him and found his place," said teacher Matt Millard. "We are always happy to see our students thrive after they graduate."
Learn About Our Career & Technical Education Programs
The Construction/Heavy Equipment program is one of nearly 40 programs offered for high school students. Learn about the many courses available to through our Career & Technical Education Center.