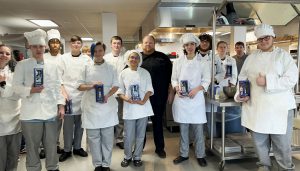 Jason Eksterowicz hit it out of the park when he embarked on his culinary career upon graduating from Capital Region BOCES and Schoharie High School in 2002. In a little more than a decade, he went from BOCES graduate to executive chef for the New York Mets major league baseball team, with stops at the Sagamore Resort and the famed MGM Grand in Las Vegas along the way.
Recently, Eksterowicz returned to the region to talk about his experiences with current Capital Region BOCES culinary students and share a recipe for a strawberry cheesecake dessert.
"One of the great things about Capital Region BOCES is it gives you a foundation. It provides you a foundation to really know what being a cook means," he said, adding, "BOCES provides you the skills to not only conquer the kitchen but conquer the world."
From the Schoharie CTE, to the major leagues
Eksterowicz oversees a staff of several hundred who are charged with preparing the culinary delicacies at Citi Field, the Mets' home stadium, as well as several minor league stadiums that are part of the Met's farm system.
"I never would have imagined when I was in high school that this is where I would be now," he said during a break from speaking to students in Chef Paul Dolan's classroom.
Eksterowicz was accompanied on his trip back to BOCES by his former teacher, retired BOCES educator and chef Nancy Iannacone.
"He is top of the line. He had perfect attendance throughout school from kindergarten on. He even came to school when he didn't have to and he worked for me at a summer camp and never missed a day. At 16, he was able to manage a kitchen that fed 500 kids," said Iannacone.
The Schoharie alum shed light on his recipes for success, which includes everything from ensuring the recipe for a chicken Caesar salad is the same for all 45,000 fans of a Mets game, to the proper margin on dishes to how to go from high school student to executive chef for a Major League Baseball team in less than two decades.
"You get what you put into your education. You have to work for it," he said. "Nothing is handed to you."
Students were inspired by Eksterowicz's presentation, as someone who was once in their shoes, and white coats.
"It's really interesting and it's great to learn from someone who has really gone places in the culinary field," said Jocelyn Soto, who attends the program from Bethlehem.
"It's really great to hear from someone that high up in the industry, and to eat something he prepared," added classmate Connor Vojnar from Guilderland.
Learn more about our programs
There are currently 118 students from nearly two-dozen school districts enrolled in the Capital Region BOCES program, which is offered at both the Albany and Schoharie campuses. Students in the two-year program learn the skills necessary to enter the workforce as a chef or pursue additional training in college. Graduates work in restaurants and resorts around the region and beyond, own their establishment and even prepare food for professional sporting events.
For more information on program offerings, such as Culinary Arts, check out our Career & Technical Education page.