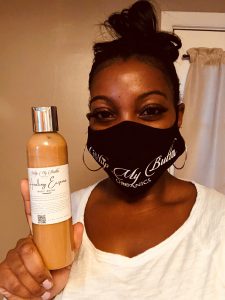 March is Women's History Month and we're shining a spotlight on women in the skilled trades and professions—those who are challenging gender stereotypes and building solid futures through their time at Capital Region BOCES.
For Tiffany Harris, necessity really was the mother of invention.
Harris, a 2008 graduate of our Career and Technical School Cosmetology program, was in search of safe products to use to treat her children's eczema.
"I ended up spending so much money on the 'right' product for their skin in hopes it would clear it up without added chemicals or ingredients," said Harris. "One day, after much research and time, I decided to make my own organic and natural products. After a couple of days, their skin cleared up indefinitely."
Realizing she had hit on something that could benefit others too, Harris combined what she had learned in our program with her knowledge of business management and occupational therapy (studied at the College of Saint Rose and Maria College, respectively) to develop Whip My Butta Organics. A full line of eczema products along with other natural skin care items crafted by Harris are now available through local retailers and online.
"BOCES Prepared Me For The Professional World"
In college, Harris used her cosmetology skills to fund her dreams—working in hair salons to help pay for supplies, meals and rent. 
She also draws on what she learned in our program when making professional decisions—as an occupational therapy assistant and in her skin care business—and when interacting with others.
"BOCES prepared me for the professional world in the fact that we all needed to be punctual and whatever we put on display needed to be professionally able to sell," Harris said. "Going through BOCES, we learned how to respect people's decisions, as well as speak to customers. I believe these are very important skills to have since they can be applied to a variety of situations and career choices."
Greater Things Ahead
As to the future, Harris said she sees even greater things ahead.
"My future goals are to eventually get into Target or a bigger box store. I also plan to have multiple vending machines with my products for the public," Harris said.
"One of the joys of teaching is seeing student success," said Cosmetology Teacher Jean Hoffer. "I am incredibly proud of Tiffany and all of her achievements."
Recruitment for the  2021-22 school year is now underway. Learn more and take a virtual tour of Cosmetology and the 40+ other programs offered through our Career and Technical School.