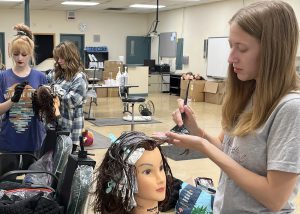 Madison Sluers is so committed to becoming a cosmetologist she spent dozens of hours practicing her skills and earning state-required hours in our classrooms after she graduated from our program and Ravena-Coeymans-Selkirk High School.
So it may surprise you to learn that her aspirations have her working with patients, not customers.
Sluers, a Cosmetology program graduate will attend Hudson Valley Community College this fall in pursuit of a career as a registered nurse (RN). She plans to pay for her college education using her cosmetology skills.
"I knew all along that cosmetology was going to be a backup for me and while I was at BOCES I figured out that I really want to be a nurse," Sleurs said.
While at BOCES, Sleurs interned at The Hair-Em Salon in Ravena and gained a multitude of skills that will allow her to earn professional certification and work in a salon while attending college.
She even earned skills that will apply to her career in nursing.
"BOCES taught me how to be professional and taught me communication and time management skills,"  she said.
Sluers is not alone in gaining skills at BOCES that can be used to pay for a college degree for another profession.
Past Career & Tech graduates have used cosmetology skills to pay for a college degree in journalism, used culinary education as a backup to a career as a nutritionist and studied fashion as a backup to a career in law enforcement.
Learn About Our Career & Technical Education Programs
The  Cosmetology program is one of nearly 40 programs offered for high school students. Learn about the many courses available to through our Career & Technical Education Center.