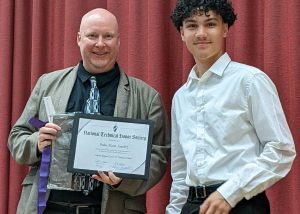 Eighty Capital Region BOCES Career & Technical School students were inducted into the National Technical Honor Society (NTHS) this June, while an additional 13 students were recognized for being in the society for the second year.
Those honored come from a cross section of Career and Technical Education programs, from Criminal Justice to Welding and Metal Fabrication and Culinary Arts & Hospitality Technology to Early Childhood Education.
To be honored, students had to meet several criteria, including earning grade point averages (GPA) of 92 or greater at Career & Tech and an overall GPA of 85 or greater at their high schools, as well as having five or fewer absences.
"I'm in awe of what you have accomplished," said Director of Career &Technical Education Jeff Palmer. "You have proven that you have the right stuff, that you are the right workers employers are seeking."  
The nearly 80 new inductees and 13 second-year members hail from 19 school districts and almost two dozen programs across Capital Region BOCES. 
"I am proud of the recognition. It shows that I have worked really hard to maintain my grades and build my resume," said Nicole Forbes, an inductee from Duanesburg.
Fellow new inductee Isabella Tschantret sounded a similar sentiment.
"It shows what I am capable of doing and recognizes the hard work we have all put into our programs and studies," the Middleburgh teenager said.
2023 National Technical Honor Society Inductees
Albany Campus
Elyssa Bailey, Two Year Sequence of Health Careers II, Green Island
Sophia Berlin, Global Fashion Studies I, Bethlehem
Ciara Boniecki, Two Year Sequence of Health Careers I, Cobleskill-Richmondville
Drake Bouchard-Polec, Auto Trades I, Ravena-Coeymans-Selkirk 
John Brown, HVAC/R, Scotia-Glenville
Emily Burdikoff, Digital Media Design, Burnt Hills-Ballston Lake**
Matthew Burns, Game Design & Implementation, Ravena-Coeymans-Selkirk**
James Cable, Auto Trades Tech I, Bethlehem
Dylan Carl, Welding and Metal Fabrication, Guilderland
Aidan Carras, Welding and Metal Fabrication, SchenectadyHeaven Carter, Criminal Justice, Green Island
Zachary Casso, Game Design & Implementation, Shenendehowa**
Ian Caterina, Two Year Sequence of Health Careers I, Scotia-Glenville
Austin Chmielewski, Digital Media Design I, Ravena-Coeymans-Selkirk 
Joseph Coluccio, Auto Trades Tech I, Voorheesville
Liam Cowdrey, Building Trades I, Scotia-Glenville
Luke DaBiere, Auto Body Collision Repair and Refinishing, Shenendehowa
Isaiah Eckman, Building Trades I, Niskayuna
Griffin Elmore, Game Design & Implementation, Guilderland
Riley Ertelt, Game Design & Implementation, Guilderland**
Elijah Edwards, Building Trades I, Schenectady
Skyllar Fleming, Early Childhood Education I, Guilderland
Nicole Forbes, Digital Media Design I, Duanesburg
Nathaniel Froehlich, Electrical Trades I, Niskayuna
Emily Hainey, Sterile Processing Technician, Middleburgh
Rachel Hammond, Early Childhood, Bethlehem
Zachary Hilt, Welding and Metal Fabrication, Scotia-Glenville
Annabelle Hinkle, Building Trades I, BHBL
Mason Hommel, Auto Trades Tech I, Bethlehem
Jocelyn Howe, Global Fashion, Mohonasen**
Sa-id Jones, Electrical Trades, Mohonasen**
Tia Johnson, Two Year Sequence of Health Careers I, Schenectady
Krista Katsoudas, Criminal Justice, Niskayuna
Braeden Kennedy, Electrical Trades, Guilderland
Luciano Leto, Network Cabling Technician/Smart Home Technology I, Ravena-Coeymans-Selkirk
Jack Levin, Welding and Metal Fabrication, Schalmont
Tyler Lischak, Electrical Trades, Ravena-Coeymans-Selkirk**
Joseph Miller, Building Trades I, Ravena-Coeymans-Selkirk
Demari Perkins, Network Cabling Technician/Smart Home Technology I, Watervliet
Zachary O'Connor, Welding and Metal Fabrication, South Colonie
Everett Paige, Network Cabling Technician/Smart Home Technology, Schenectady
Sadie Plant, Digital Media Design I, Berne-Knox-Westerlo
Jake Porter, Building Trades, Ravena-Coeymans-Selkirk**
Angelina Pramechand, Two Year Sequence of Health Careers I, Schenectady
Christopher Raffan, Game Design & Implementation, Schenectady
Phillip Ramos, Auto Body Collision Repair and Refinishing, Shenendehowa
Aiden Rossman, Auto Trades Tech I, Bethlehem
Pedro Sanchez, Culinary Arts & Hospitality Technology, Guilderland
Ashley Santibanez, Criminal Justice, Niskayuna**
Cody Sherwood, Network Cabling Technician/Smart Home Technology, Middleburgh
Daryen Swann, Electrical Trades I, Bethlehem
Lillian Sweeney, Digital Media Design I, Guilderland
Kira St. Andrew, Game Design & Implementation, Cohoes
Emily Tice, Culinary Arts & Hospitality Technology, Guilderland
Haley Titus, Welding and Metal Fabrication, Schoharie
Benjamin Torrisi-VanWormer, Building Trades I, Green Island
Graciana Tricozzi, Criminal Justice, Scotia-Glenville
Isabella Tschantret, Early Childhood Education I, Middleburgh
Vincent Unser, Game Design & Implementation, Schalmont
Ruger VanWie, Welding and Metal Fabrication, Bethlehem
Brianna Venditti, Two-Year Sequence of Health Careers, Burnt Hills-Ballston Lake**
Olivia Wood, Early Childhood Education I, Burnt Hills-Ballston Lake
 
New Visions Health Careers – Ellis Hospital and St. Peter's classrooms
Jessica Almodovar, New Visions: Health Careers, Schenectady
Anastasia Boldyrev, New Visions: Health Careers, Scotia-Glenville
Riley Cronin, New Visions: Health Careers, Middleburgh
Maci Greco, New Visions: Health Careers, Shenendehowa
Maya Healey, New Visions: Health Careers, Niskayuna
Eduardo Imbert, New Visions: Health Careers, Scotia-Glenville
Christopher LaRosa, New Visions: Health Careers, Shenendehowa
Rowden Samantha, New Visions: Health Careers, Niskayuna
Zachary Place, New Visions: Health Careers, Scotia-Glenville
Adarsh Senthil, New Visions: Health Careers, Shenendehowa
Theodore Tsamis, New Visions: Health Careers, Cobleskill-Richmondville
David Viall, New Visions: Health Careers, Scotia-Glenville 
Jessica West, New Visions: Health Career, Scotia-Glenville
Schoharie Campus
Allyson Bates, Cosmetology, Berne-Knox-Westerlo
Cole Carman, Criminal Justice, Schalmont
Jeffrey Caron, Criminal Justice, Berne-Knox-Westerlo**
Hailey Chase, Culinary Arts & Hospitality Technology, Berne-Knox-Westerlo**
Nichole Clark, Criminal Justice, Cobleskill-Richmondville
Cierra DuPont, Criminal Justice, Middleburgh
Brianna Galka, Cosmetology, Schalmont
Richard Harris, Culinary Arts & Hospitality Technology, Berne-Knox-Westerlo
Abigail Heimburg, Criminal Justice, Duanesburg
Loren Herzog, Culinary Arts & Hospitality Technology, Schoharie
Rhiannon Islip, Criminal Justice, Sharon Springs**
Jillian Kennedy, Criminal Justice, Schoharie
Haily Lawrence, Culinary Arts & Hospitality Technology, Duanesburg
Joshua Mitchell, Criminal Justice, Schoharie
 Kirsten Moran, Criminal Justice, Schalmont
Brenden Parrotti, Criminal Justice, Sharon Springs
Cole Smith, Culinary Arts & Hospitality Technology, Schalmont
Mason Welch, Criminal Justice, Duanesburg