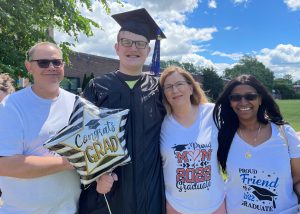 Students who have attended programs at our Maywood School recently celebrated a successful end to their high school career during a ceremony attended by proud family, teachers and friends.
Many of the exiting students have been in our programs for years. They will now be moving on to in college, learning in other programs and to jobs out in their communities.
In speaking at the gathering, Maywood School Principal Gabe Barbato reminded the students to "always choose kind" and believe in themselves.
"Remember to believe in yourself and always strive to be your best self," said Barbato, "and always remember that all of us here believe in you and your character, too."
Congratulations to each of this year's graduates — we can't wait to learn what you do next!