STEM Kits To Promote Hands-on Learning and Family Engagement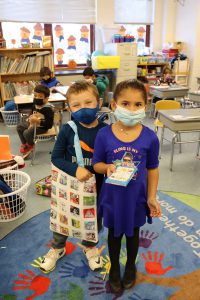 In addition to learning their traditional ABCs, kindergarten students from across the Capital Region will learn the ABCs of STEM® — a program that introduces science, technology, engineering and math (STEM) concepts to young children.
Capital Region BOCES is helping coordinate the local launch of this early childhood STEM education program in 13 of its component school districts on Monday, November 8, which coincides with National STEM Day.
"We are excited to be a part of connecting our educators, students and families to the ABCs of STEM, which presents STEM in an easy and fun platform to our youngest learners and families from all educational and socioeconomic backgrounds," said Capital Region BOCES Director of Educational Support Services Kelly Masline.
These STEM learning kits will provide an opportunity for kindergarten students and their families from Berne-Knox-Westerlo, Cobleskill-Richmondville, Cohoes, Duanesburg, Green Island, Menands, Middleburgh, Mohonasen, Ravena-Coeymans-Selkirk, Schoharie, Scotia-Glenville, Voorheesville and Watervliet schools to engage in easy, fun, hands-on STEM-based activities at home.
"I am thrilled to partner with BOCES and such incredible STEM industry partners to bring The ABC's of STEM to the Capital region," said ABC's of STEM® Program Creator Karyn Burns-Gerling. "Not having a background in STEM myself, I set out to create a platform that allows for industry-focused STEM concepts to be introduced to students and families of all backgrounds through fun family engaging experiences. I am grateful for the opportunity with all these incredible school districts and grateful for the community support from all of our industry sponsors."
More than 70 STEM kits are being supplied free of charge to the school districts thanks to the generosity of industry sponsors that include GlobalFoundries, National Grid, New York State Industries for the Disabled, Inc. (NYSID) and Regeneron. Each of the kits will serve up to 25 students in kindergarten classrooms locally.
Industry partners are enthusiastic to support the ABCs of STEM program in Capital Region schools.
"It's never too early to spark interest in STEM, and the ABCs of STEM brings that spark directly into families and communities.  Connecting STEM between schools, families, communities and businesses is a critical link to continue building the STEM ecosystem.  We are excited to be partnering with the ABCs of STEM to do just that," said GlobalFoundries Workforce Development Lead Tara McCaughey.
"STEM is at the center of what we do at National Grid. We take every opportunity we can to train and prepare the next generation of utility employees at every age. Opportunities like this allow us to spark that curiosity early on so that working at a utility and helping shape the energy future is front of mind as young people start making decisions on where their life will take them," said National Grid Regional Executive Laurie Poltynski.
"Technology can be a pathway to more employment opportunities and financial security for the individuals with disabilities served by NYSID Member Agencies. NYSID is pleased to support the ABCs of STEM to engage young minds to apply science, technology, engineering, and math toward making a difference in the Capital Region and beyond," said NYSID President & CEO Maureen E. O'Brien.
How the ABCs of STEM program works
Each week, one kindergartner from each classroom is announced as the STEM Student of the Week and receives a tote bag containing a variety of STEM materials that includes flash cards, a placemat, a family activity guide, poster and more to bring home. Throughout the week, the student's family engages in simple and fun hands-on learning activities at their own pace. Students and families record their experiences on the Student of the Week poster. Students return the tote bag at the end of the week, and present their poster as part of a report on their STEM adventures that is shared with their kindergarten classmates.
The following week, another student and family are chosen to be the next ABC's of STEM Student of the Week, a process that is repeated throughout the school year.