An initiative by Capital Region BOCES to draw more women into the skilled trades was recognized Monday by the New York State School Boards Association (NYSSBA).
NYSSBA presented a Champions of Change award to BOCES leaders and educators during the monthly BOCES meeting. The award was presented by NYSSBA representative and Capital Region BOCES Board of Education member Catherine Lewis in recognition of the Women in The Trades Month initiative BOCES conducts in March of each year.
Through events, social media posts and traditional media outlets, BOCES celebrates the achievements of women who pursue careers in the skilled trades and highlights the path they took to those careers. 
The 2023 Women in the Trades celebration was highlighted by a luncheon that featured a panel discussion of six women who work in the skilled trades speaking about their careers and encouraging a room full of young students from a dozen area school districts interested in those careers. Also on hand were women who work in the trades at other businesses, as well as women students currently enrolled in programs for the skilled trades at the Career & Technical Education Center.
"The event is all about celebration, inclusivity and empowerment and building the workforce by tapping a traditionally untapped source of skilled labor," said Capital Region BOCES Career and Technical Education Director Jeff Palmer.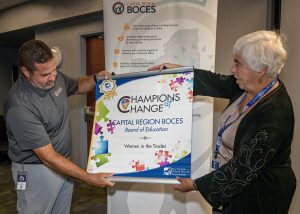 Speaking during the March 9 event to the more than 120 people on hand about their experiences in the trades were Andrea Crisafulli, President, Crisafulli Bros. Plumbing & Heating Contractors, Inc.; Victoria Carl, Owner, Carl's Advanced Automotive & Truck Repair Center and a 2017 graduate of the Diesel Tech program; Cassandra Harrat, Marketing & PR, Home Evolution Contractor, LLC; Maryssa Navarro, Apprentice, Laborers Local 17; Reagan Smith, Project Coordinator, DWM Comprehensive Solutions, 2020 graduate of the Construction/Heavy Equipment program and Tori Rodriquez, Account Executive, Haun Welding Supply. 
Palmer welcomed the recognition for the Women in The Trades initiative.
"Thanks to our partnerships, we have and will continue to open doors for underserved populations and work to build the regional, state and national workforce," he said.
The Champions of Change recognition celebrates innovative programs in school districts across the state that optimize existing resources to address issues of equity, demonstrate strong student academic performance and introduce unique learning environments that are cutting-edge and future-oriented.
Planning is already underway for the 2024 Women in The Trades celebration. Details will be posted in the media, social media outlets and on www.capitalregionboces.org/.