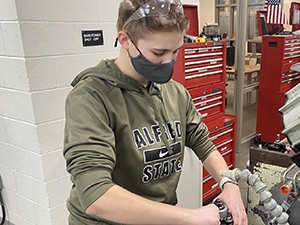 Throughout March, in honor of International Women's Month we are shining a spotlight on women in the trades who are challenging stereotypes and building solid futures through their education at Capital Region BOCES.
Two local teens are gaining valuable experience in local manufacturing operations thanks to the knowledge, skills and connections gained through Capital Region BOCES.
Caitlin Atkinson and Allison Umstatder are seniors our Manufacturing and Machining Technology program who are using their new, professional skills in work-based learning operations.
Atkinson started working at Package One in March 2021 and Umstadter started work at Greno Industries in November 2021. Both received their placements through our Work-Based Learning program.
"The people are nice and teach you well," said Atkinson, who attends BOCES from the Cobleskill-Richmondville schools.
"The people [at Greno] are great and taught me techniques that I can use now and in the future," added Umstadter, who attends BOCES from the Scotia-Glenville schools.
Careers In Manufacturing, Machining On The Rise
According to Zippia , just 3.9% of the approximately 300,000 machinists in the United States are women. At the same time, according to the Bureau of Labor Statistics, the number of machinists is expected to grow by 7% in coming years.
"It's great getting a paying job through BOCES," Umstadter said.
Work-Based Experiences Enhance Learning
Students in virtually every Career & Technical School program have opportunities for unpaid and occasionally paid work-based learning experiences. Through these experiences, students work hand-in-hand with industry professionals at a myriad of local businesses and institutions. Sometimes, the work turns into a career post-graduation; other times, the experiences boost student knowledge as they climb the career ladder through higher education opportunities.
Teacher Kody Skeals—who has extensive experience in the manufacturing industry—said he doesn't recall women workers on the manufacturing floor of businesses.
"It's great that these students are pursuing careers in an industry where they are under-represented," he said, adding "they have had fantastic opportunities at Package One and Greno and have learned a lot from their time there."
Both women plan to take their education to the next level: Atkinson at Alfred State and Umstadter at Hudson Valley Community College.
"BOCES is a good experience. The teachers know what they are talking about because they have done it and they prepare you well through their teaching and work-based learning for your career or future learning," Atkinson said.
Recruitment Now Underway for 2022-23
Interested in earning skills for one of today's in-demand careers? Want to do it your own way? Students in our component districts are encouraged to explore our Career and Technical School and its 40+ offerings.