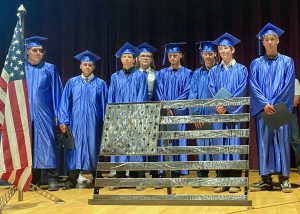 Graduates of the Capital Region BOCES Career and Technical Welding & Metal Fabrication program may never take a class on our new Career and Technical School, Albany Campus, but that does not mean they won't have left their mark there.
During a ceremony on June 7, the 12 members graduating from the welding program at the Center for Advanced Technology at Mohonasen (CAT) presented BOCES administration with a large, steel flag for our new campus, located at 925 Watervliet-Shaker Road in Albany.
"It is our hope that this flag can be seen and enjoyed by generations to come," said Andrew Striffler, who attended the program from Mohonasen High School.
In accepting the gift, District Superintendent Anita Murphy praised the artisanship of the students and vowed to have the flag displayed prominently in the new campus.
"It's beautiful, gorgeous," Murphy said as she made her way through the line of  graduates, shaking each student's hand. "It will be hung right where it can be seen by everybody in the front foyer of the building."
Programs located at the CAT building on the Mohonasen campus and the Career and Technical School, Albany Campus, will consolidate to  a new, state-of-the-art facility constructed  constructed at 925 Watervliet-Shaker Road in Albany. The new campus, which is outfitted with modern labs and learning spaces to prepare students and adults for current and future industry needs, is scheduled to open in the coming weeks.
Welding graduate Ryan Hobart said the flag was the brainchild of Giovanni Cervera, a welding classmate from Schalmont and president of the SkillsUSA chapter on the CAT campus.
"He had the idea and we all thought it was great. It was fun working on something that will be viewed long after we are gone," said Hobart, who attended BOCES from Mohonasen.