December 2021 Commitment Award For Service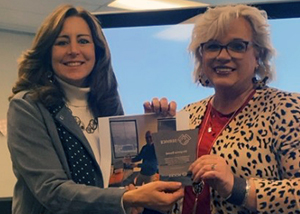 Virginia Bond, an instructional training specialist in our NERIC division,  is the recipient of our December 2021 commitment award for service.
Lora Parks, manager of NERIC's Instructional Technology Service, nominated Virginia Bond for this award based on her significant positive contribution to the Capital Region BOCES/NERIC community—specifically her service to our districts and expertise in training on instructional technology and integration of Google for Education.
"Virginia exemplifies service in her willingness to support districts and teachers with all levels of integration of technology," said Parks. "Her value and excellence are evident, as she had provided hundreds of virtual trainings to thousands of educators who have registered for her trainings. Additionally, Virginia holds numerous licenses and certifications, and was selected as North America's Trainer of the Month by Google."
Additionally, Virginia is generous in sharing her knowledge on such topics Google, Chromebooks and various platforms used for education in our classrooms with the BOCES and NERIC staff.
Virginia's success, knowledge, and hard work significantly contribute to the quality of programs and services provided at Capital Region BOCES and NERIC.
The Commitment Awards were established to recognize employees who embody each commitment to a significant degree, and is one part of a three-tiered recognition program to build a culture of gratitude through acknowledgment and appreciation. Our Commitments — SERVICE, VALUE, EXCELLENCE, IMPROVEMENT, LEADERSHIP — embody what we do and who we are.