Comprehensive Evaluations Reduce Potential Safety Risks 
To create a safe and protective environment for your workforce it is imperative to prevent health and safety hazards.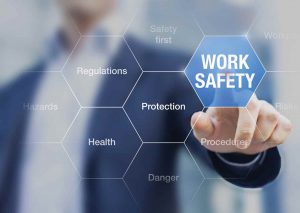 When leaders do not take proper precautions, injured employees can leave an organization unable to move forward.
Through a comprehensive evaluation, our team will provide recommendations for the reduction of workplace hazards, injuries and their associated costs. With options ranging from trend analysis to work-site audits to accident investigation, our experienced professionals will help reduce the risks to your community's health and safety.
Contact us today to begin improving your workplace health and safety.
How it Works
Contact Us– We'll listen to your needs surrounding workplace health and safety.
Get Started– We'll evaluate your workplace for hazards, potential injuries and their associated costs.
See Results– You will see significant cost savings while reducing the risk to your organization's health and safety.
What to Expect
Trend Analysis – Review of historical Loss Run reports from your workers compensation provider. Identification of trends. Development of job-specific solutions to reduce future loss.
Work-Site Audit – Site-specific safety audit plans for office, school and bus garage work sites. Hazard identification and reduction strategies.
Accident Investigation – Upon notification of an employee injury via district Human Resources, we contact the employee's supervisor and arrange for an interview/investigation with the injured employee. We complete an investigation form and share lessons learned with the supervisor to reduce the potential for future injury.