Comprehensive Compliance Support and Resources
As health and safety regulations evolve, developing a safe environment can be a difficult and costly challenge.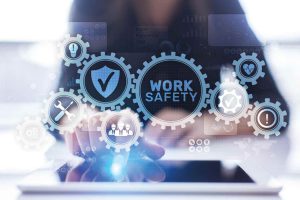 Our team of trained professionals will work with you directly to assess your organizational needs and develop priorities to help you establish a comprehensive safety, health and environmental compliance program.
With a broad scope of services, ranging from annual compliance training to indoor air quality investigations, you can rest assured that the health and safety of your workplace community is well taken care of.
By working with us, you will have the peace of mind that the health and safety of your community is taken care of.
Contact us today to discuss how we can help you develop a proactive approach to health and safety.
This service provides training, consultation services, technical assistance and leadership to help schools create and maintain an educational environment that is a model for workplace safety and best practices. Our staff is specially trained to help superintendents, building principals, school nurses, classroom teachers and facilities staff develop proactive approaches to health and safety.
Direct Assistance to Schools
We work directly with school districts to handle matters of compliance with regulatory agencies' requirements; and develop a comprehensive school safety program that minimizes hazards and unsafe practices and is integrated with their daily operations.
Regulatory inspection walk-throughs with Department of Health, Department of Labor, Department of Environmental Conservation.
Mandated trainings tailored to district needs; online or in-person for small and large groups.
Annual review and update of written programs.
Compliance with new regulations.
Asbestos Hazard Emergency Response Act (AHERA) compliance, asbestos audit preparation, asbestos inspections and management plan review.
Identification of safe and cost-effective chemical disposal methods.
Rebuilding Our Schools to Uphold Education (RESCUE), including work with safety committees, five-year building condition survey, and New York State Education Department reporting.
Fire safety inspections.
Indoor air quality on-site evaluation and follow-up.
Conduct and/or arrange with appropriate certified professionals to conduct sampling for air and surface (asbestos, lead, PCBs, radon and more); water (bacterial, chemical, metals etc.); and soil (pesticides, lead, radon).
Participating districts also receive newsletters and workshop opportunities that keep their staff informed about important and emerging school related health, safety and risk management issues and trends.
Range of Services Offered
Programs and assistance are available in the following areas:
AED (Defibrillator) Compliance & Coordination of Training
Art, Science, and Technology Classroom Safety
Asbestos and AHERA
Bloodborne Pathogens
Chemical Safety and Disposal
Emergency Management Plans, Training and Drills
Fire and Building Code Compliance
Lead Poisoning Prevention and Compliance
New York State Asbestos Safety Training

As a NYS Department of Health accredited asbestos safety training provider, we can work with those interested in becoming certified or maintaining certification to handle or abate asbestos in NYS. 

New York State Pollutant Discharge Elimination (SPDES)
OSHA/PESH Compliance
Pesticide Use and Notifications
Petroleum Bulk Storage Tanks
Playground Safety Inspections and Training
RESCUE Compliance
Respirator Use and Training
Right-to-Know/Hazard Communication
Safety Committees
Transportation Safety
Water Quality
What to Expect
Expert Guidance — You can rely on our knowledgeable staff to look-out for the best interest of your organization.
Service to Meet Your Needs – We will provide custom-tailored solutions specifically designed to meet your needs.
Peace of Mind – We will do the heavy lifting so that you can focus on other key priorities.
How it Works
Contact Us – We'll listen to your needs and discuss how we can help.
Select Service Level – This service is flexible to meet your needs. You may purchase each component separately, in combination or holistically, depending on what makes sense for your organization.
Get Started – Begin working with your new support team, designated staff member or consultant.
"Our district has subscribed to the service for over a decade. I would strongly recommend that you consider the service. Both the back-end services, training, and support as well as the on-site specialist have proven to be invaluable to our district."

-Neil Sanders, Assistant Superintendent for Business, Guilderland Central School District