Website Provides Roadmap to Standards-Based Curriculum
Access a standards-based prioritized curriculum that is both vertically and horizontally aligned.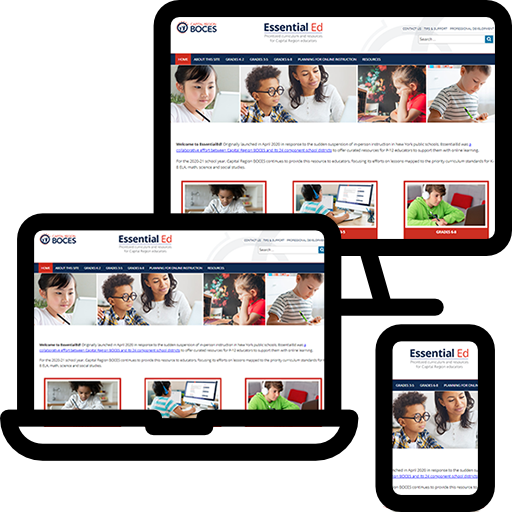 It's no secret that educators have a lot on their plate. They seldom have adequate time to work with their peers to prioritize and develop course curriculum and student outcomes based on the state's learning standards. 
As a result, instruction may vary from class to class and building to building within a school district, increasing the chance of inequities in student learning.
The Essential Ed curriculum serves as a roadmap for educators to focus on the knowledge, skills and understanding students need within any given standard.  It also provides a framework for each educator to weave in their content for instruction. Using this approach, planning for instruction becomes standards-based instead of resource-driven.
That's where the members-only Essential Ed website can help.
With any time, anywhere online access to Essential Ed, schools and educators are just a click away from a full suite of curricula and instructional resources. 
Video: Curriculum Support for Teachers on the Essential Ed Website
Benefits of Standards-Based Units
Allow educators to focus on standards-aligned essential learning. This makes room to assess and weave in identified prerequisites needed for new knowledge.
Ensure what students learn in one grade level prepares them for the next. Students will gain the critical knowledge and skills they need for success in school. 
Provide standards-based instruction to all students. The roadmap provides teachers with an overview of essential standards, outcomes and progression of student learning targets. 
Contact us today to learn more.
Develop Lessons Using Priority, Standards-Based Units
Gain access to standards-based units for students in kindergarten through eighth grade in English Language Arts, math, science and social studies. Available resources will support educators and school districts as they transition to the state's new learning standards.
Each Unit Includes 
At-a-glance documents for ELA, math, science and social studies.
A unit description and essential outcomes of the unit based on priority standards.
Essential questions and big ideas.
Pre-requisite skills checklist to help educators identify students who will need targeted instruction before starting a new unit.
Resources related to curriculum, instruction and engaging students online.
What to Expect
Downloadable Units – All templates are compatible with your school's student learning management system and/or online learning platform.
Customizable Lessons –  Easily build your own unit lesson plans incorporating district resources. 
How it Works
Get Started  – Visit https://essentialed.capitalregionboces.org/.
Login – Enter the password-protected website using the provided login credentials. 
Access Anywhere – Use the site anytime, anywhere from any electronic device. Check back regularly for new resources and updates.
Without a prioritized curriculum, educators will continue to be resource-driven, feeling pressure to complete units that may not represent priority standards and essential learning.
Essential Ed can help. Contact us today to get access to the members-only website.
"Watervliet teachers have benefited as both contributors and consumers of the Essential Ed website. We recognize it as an important resource for educators as we move forward with building standards-based units that focus on the knowledge and understanding students need to be successful." — Don Stevens, Watervliet City School District Assistant Superintendent