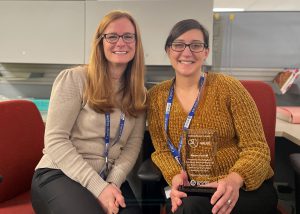 Congratulations to Karen Pacelli, Graphic Designer, for receiving the November 2022 Commitment Award for Value. 
Karen was nominated for this award by Program Manager Erin McNulty who shared the following:
"Karen Pacelli provides value to her colleagues and our clients in ways that go beyond being a talented graphic artist.
Karen can easily switch 'hats' between being a graphic designer (i.e., designing print materials such as newsletters and brochures, and digital assets such as e-newsletter and social media graphics) and a web designer (i.e., working in HTML code, and designing with the optimal user experience in mind for different mobile devices and accessibility of content.)
Over the past two years our web development team has made the strategic—and scary—move to create school websites using a new full-site editing framework. Karen has led this charge from the web designer lens by researching and implementing a working test site, providing hands-on trainings for her fellow web design colleagues, and documenting the ever-changing process along the way. This new framework will elevate the type of design and functionality that we can provide to our clients, as well as provide a more simplified and flexible experience for our web content authors.
Everyone on the Creative Team knows that Karen loves to create lists (and, yes, she does have a clipboard that she uses from time to time!) Karen's attention to detail and desire to document new design processes and procedures is incredibly valuable to our growing service. In fact, Karen was instrumental in creating a mentoring curriculum for our graphic artists in anticipation of some of our veteran graphic artists retiring over the next six months. 
Karen is a thoughtful and creative problem-solver. She provides value each and every day as a mentor to her design colleagues, which in turn, provides value to our customers twofold.
Karen is also an active member on the @Engagement & Development Services Division 84's Service Model Task Force and Branding Committee. The Service Model Task Force researches all aspects of the communications team's service model, including work environment, collaborative technology, meeting structure, and more. The Branding Committee examines and develops a plan to strengthen the division's internal brand culture, as well as focuses on external key audiences to make recommendations on the best ways to reach those audiences within the BOCES branding guidelines. 
Karen also serves on the BOCES-wide Incident Response Team."
Congratulations, Karen, and thank you for your dedication to our BOCES team, our clients and the students we serve!
The Commitment Awards were established to recognize employees who embody each commitment to a significant degree, and is one part of a three-tiered recognition program to build a culture of gratitude through acknowledgment and appreciation. Our Commitments — SERVICE, VALUE, EXCELLENCE, IMPROVEMENT, LEADERSHIP — embody what we do and who we are.