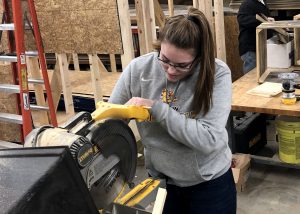 October is Careers in Construction Month—a time to recognize the importance of the construction trades in America. Throughout the month we will be highlighting the important role Capital Region BOCES plays in supporting the construction industry, locally and nationally.
Construction/Heavy Equipment program graduate, Reagan Smith, credits Capital Region BOCES with giving her a solid foundation on which to build a career in a male-dominated industry.
Smith, a 2020 Berne-Knox-Westerlo graduate who attended our construction program on the Schoharie campus, said her time at BOCES was crucial to the success she has achieved. Smith is now is now a project coordinator at DWM Comprehensive Solutions in the Construction Renovation Division in Latham.
"Capital Region BOCES helped me develop the needed skills and abilities to pursue my career, helped me seek the right path to accomplish tasks needed in this field of work," said Smith. "BOCES allowed me to jump out of my comfort zone and explore new ideas with other students that I had never met before and learn something hands-on."
Construction/Heavy Equipment Teacher Matt Millard said Smith was extremely focused throughout her time at BOCES.
"Reagan was a good student who had a plan when she came here and took the right steps to achieve those goals. She showed up every day, worked hard and had her eye on the prize from the start," Millard said.
After graduation, Smith attended Hudson Valley Community College where she earned a two-year degree in construction management, a degree partially paid for with scholarships she earned during her time at Capital Region BOCES.
Up For The Challenge
Smith said that while she works in an industry largely populated by men – only 10 percent of construction workers identify as women – and was one of only two women in the construction program at BOCES, she never felt out of place or not welcome.
In fact, she said she welcomes the challenge.
"Construction is definitely a stereotyped field of work and being able to 'break barriers' is an awesome feeling as a woman," Smith said. "I hope I can influence more females to get into those male-dominated trades!" 
Learn About Our Career & Technical Education Programs
The Construction/Heavy Equipment program is one of nearly 40 programs offered for high school students. Learn about the many courses available to through our Career & Technical Education Center.