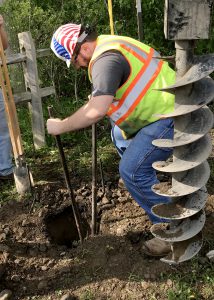 Recent CTE graduate Mason Yerdon is using the "toolkit" of the skills and experiences he gathered in the Schoharie-based Construction/Heavy Equipment program to build his future career. 
This August, Yerdon, a Schalmont native, is headed to East Tennessee State where he will pursue a degree in engineering.  
"I feel I am very well prepared for college," Yerdon said. "I have learned information on construction practices — from roof jobs to building a house — that very few people just coming out of high school have. The advantage that will give me in college when I am studying construction engineering is immense."
Yerdon, who was awarded scholarships from his future college, as well as the Capital Region BOCES Construction/Heavy Equipment Advisory Board Scholarship and the American Red Cross, was one of 18 graduates of the program this year. While Yerdon and many of his construction classmates are pursuing further education, others are putting their training right into practice with area employers, such as Callanan Industries, Hannay Reels and Santos Construction.
"The education you receive in the construction program at CTE is like no other. It prepares you for whatever you chose to do when you graduate," Yerdon said.