Six Capital Region BOCES Digital Media Design juniors recently earned professional Adobe Certifications that have built their skills and their resumes, making them more employable upon graduation from the program or, if they pursue it, college.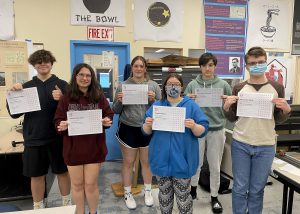 The students earned certification in April as an Adobe Certified Professional in Visual Design Using Adobe Photoshop thanks to their studies in the Digital Media program.
Earning the professional certification were Emily Burdikoff, from Burnt Hills-Ballston Lake, Lillian Cramer, Voorheesville, Riley Ertelt, Niskayuna, Sean Gallagher, Schoharie, Lenin Gutterman, Bethlehem and Pandora Moore from Scotia-Glenville.
"Adobe certification signifies an expertise that colleges often award credits for and is used on resumes to get jobs," said teacher Barb Gorbaty. To earn the Adobe certification a person must demonstrate professional-level skills and expertise.
Students are expected to complete this technical assessment for the certification by the end of the two-year program. By achieving this milestone before they end of their first year, these students give themselves the opportunity to work towards multiple certifications over their remaining time in the program, Gorbaty said.
Adobe certifications are some of the dozens of certifications Capital Region BOCES students can earn in their various programs. The certifications give them an advantage in the workforce and allow them to advance up the career stepladder quicker than peers who do not attend BOCES.
For Cramer, attending BOCES, building skills and earning certifications seemed logical.
"I want to pursue a career in graphic design and BOCES seemed like a logical choice to achieve that goal," Cramer said.