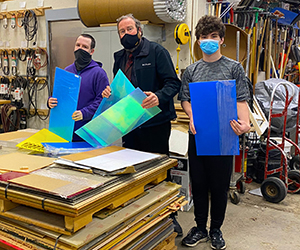 A truckload—a literal ton!—of acrylic sheets were recently donated to our Career & Technical School by business partner Creatacor Inc.
"Virtually every program we offer—from automotive to digital media design and construction—could make use of these supplies," said Work-Based Learning Coordinator James Haas.
Creatacor Inc., a Clifton Park, N.Y.-based marketing and event design corporation, is a major business partner for Capital Region BOCES.  
"From donations of equipment and supplies to providing work-based learning opportunities, Creatacor has been very generous to our programs and students over the years," Haas said.
Creatacor is among more than 300 businesses that partner with BOCES to provide students with opportunities to develop invaluable skills and knowledge that make them sought after members of today's workforce.