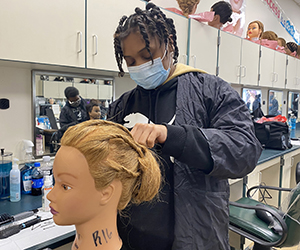 It is one thing to know how to cut and style hair. It is another to know how to sense when clients have other, unspoken needs.
To help with this, high school juniors attending our Cosmetology program on the Albany Campus recently completed the Milady RISE Certification in Client Well-Being & Safety.
According to the Milady trainers, the close and trusted relationships people working in the field of cosmetology often have with their clients give them the opportunity to sense when a client's physical safety and well-being may be at risk. The RISE Certification covers practical infection control standards and also raises awareness about issues such as domestic abuse and human trafficking. Too, it offers resources that could be used to assist someone during these types of difficult and dangerous situations.
"I like that we were able to earn this certification while in school," said Serenity Sampson of Schenectady upon completion of the certification exam.
This, along with dozens of other career-specific certifications students across our Career and Technical School programs have the opportunity to earn, shows they understand the knowledge they are taught at a professional level. Too, these credentials help build their resumes and give them a leg up when applying for jobs or higher education.
"BOCES is great because you learn a lot and earn certifications that you don't have to pay a lot of money for or go into debt like in college," added Kayla Boni, a senior from Burnt Hills-Ballston Lake.