The Capital Region BOCES publishes and prints an annual report each year to share with our component districts, BOCES colleagues, business partners, and others the work we've done in collaboration.
The 2022-23 Annual Report highlights our growth throughout the year, including new and expanded services to meet the needs of our stakeholders, inspiring student achievements, and strengthened partnerships to ensure career experiences were available for students while others provided new personal and professional growth opportunities.
A Message from the District Superintendent and Senior Executive Officer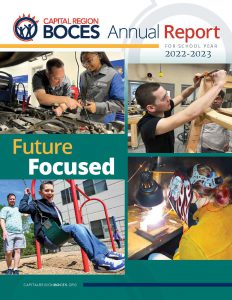 Every day, and in so many ways, the work we do matters– for learners, the school districts and clients we support, our community and business partners, and for our staff and yours, too. We deeply appreciate your unwavering support and collaboration.
From the grand opening of our new Career & Technical Education Center and Maywood Academy in Albany to a fuller return to in-person professional learning and events, the 2022-23 school year was filled with exciting new beginnings–and the continual work of enhancing and expanding on the quality services, supports and customer care we are known for.
We are proud to share with you this year's annual report, which highlights our commitment to embracing the future and empowering our learners and partners in education and workforce development to succeed–now and in the years to come. Here you will find reflections on the progress that continues to be made across all our divisions–and the many ways we come together around this collective goal.
With the support and expertise of our dedicated staff, our partners in education, and our community, we are confident Capital Region BOCES will continue to lead the way in preparing our learners, schools, and partners for the world of today and tomorrow. These pages are a testament to our collective strength and our firm belief that together we can shape a wonderful future.
Thank you for the trust you have placed in our organization and for your commitment to working alongside us for a future-focused approach to education. We couldn't do it without you!
Lauren J. Gemmill and Joe Dragone