The Capital Region BOCES publishes and prints an annual report each year to share with our component districts, BOCES colleagues, business partners and others the work we've done in collaboration.
The 2022-23 Annual Report highlights our growth throughout the year, including new and expanded services to meet the needs of our stakeholders, inspiring student achievements, strengthened partnerships to ensure career experiences were available for students while others provided new personal and professional growth opportunities.
A Message from the District Superintendent and Senior Executive Officer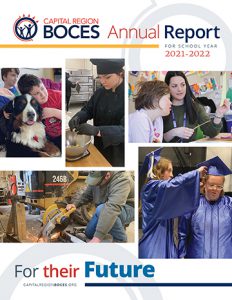 Reflecting on the 2021-22 school year, we find ourselves extremely grateful for the strong relationships we have built that have been crucial to meeting the needs of our students.
Working side-by-side with our component
school districts, we applied thoughtfulness and innovation to new program and service development, knowing that working together was in the best interests of our 80,000+ students and their families.
Business partnerships grew to provide students increased opportunities for hands-on learning and career exploration.
Coordinating efforts with neighboring community organizations and institutions of higher learning allowed us to provide students increased access to emerging fields of study.
It is clear we are all driven by one overarching goal—to provide the best possible opportunities for student success.
Together we are also always looking ahead. From our new school buildings to expanded services, the future for our students, districts, partners and staff is filled with promise.
We're proud to share this annual report with you, and to shine a spotlight on the progress we have made together. Many thanks go to our dedicated employees who continue to rise to every occasion.
Everything we accomplished during the 2021-22 school year was for one purpose—to create a better future for our students. Thank you for being our partner in this incredibly important work.
With continued respect and support, 
Anita Murphy and Joe Dragone