Some work in automotive repair facilities, others in hotel kitchens and still others in hospitals and manufacturing facilities, but they all have one thing in common—gaining professional experience as part of their education at our Career & Technical Education campuses.
Thanks to our business partners, students in nearly all CTE programs gain experience alongside industry professionals as part of their work-based learning (WBL) experience at BOCES.
Through the WBL program, students are placed in approximately 80 worksites across the region, from metal fabricators to hotels and garages. A very small percentage of those turn into paid internships, though they do occur, said James Hass, work-based learning coordinator for Capital Region BOCES. Some also lead to offers of future jobs and careers.
Past graduates feel prepared in the workplace, thanks to their BOCES training
Joe Lawyer,  a Sterile Processing Technician graduate from Schoharie High School is just one example of this.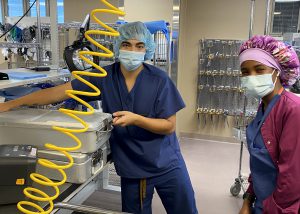 As part of his training at BOCES, Lawyer spent countless days at Albany Medical Center working
alongside sterile processing technicians preparing medical instruments. Upon graduation, he was offered a job at the hospital – just like class of 2021 graduate Carrera Meyer-Hill who was also hired at the facility upon graduation from BOCES and Mohonasen High School.
"Transitioning from BOCES to Albany Med was smooth," said Meyer-Hill. "I already knew the scenery and how to do the job, which made me super comfortable because this is a serious job to do at a young age. It was great to get a job I felt good in through BOCES."
Lawyer said his experiences at Albany Medical Center were by far his favorite part of attending BOCES.
"At Albany Med you are learning what real life is about. It is something completely different than what you learn in a traditional classroom and it's not only important, but it is fun," he said.
Collaboration with business partners fills employment gaps
The learning opportunities that our business partners provide to CTE students across disciplines is unparalleled. Too, our partners find great value in helping to prepare the workforce of tomorrow. Business owners said the work-based learning program helps them overcome the skilled-worker shortage.
"Over the years, TCI has partnered with Capital Region BOCES on several work-based learning opportunities for students leading to full time careers at our company. The training BOCES provides ensures these students are prepared to come to work," TCI, Inc. Communications Director Mark Westcott.
"BOCES really develops young people into the technicians we need. The students we have gotten through the program have stayed with us. They are not jumping around. They know we took them in as fledglings and they are staying with us," said Bill May, service manager for Capitaland Motors GMC-Subaru. May has hired BOCES graduates and currently hosts three CTE seniors for paid work-based learning – Tucker Cherry of Niskayuna, Octavia Rice from Burnt Hills-Ballston Lake High School and Anthony DiMatteo from Schalmont High School.
"The best thing that BOCES has done for me is land a job at Capitland Subaru through a job fair at CTE," said Cherry, who plans to continue working at Capitaland while studying automotive technology in college.
Learn more about becoming a business partner
Capital Region BOCES works with more than 300 business, education and labor partners to provide training and career opportunities to the 1,200 students enrolled in Career & Technical Education programs at Capital Region BOCES.
To become a BOCES business partner, please contact Capital Region BOCES Managing Program Coordinator – Business & Community Partnerships, Nancy Liddle at nancy.liddle@neric.org.