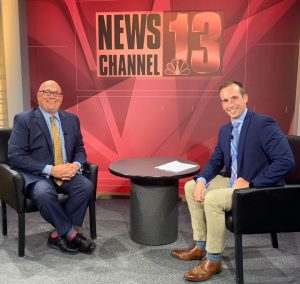 During two segments on WNYT News Channel 13's Weekend Forum, BOCES' Senior Executive Officer Joseph P. Dragone, Ph.D. highlighted the growing business-education partnerships that have resulted in new Career and Technical School programming and enhanced the other programs and services we provide.
Dragone highlighted BOCES' efforts to meet the demands of the workforce—from our Engineering Technician program that launched in 2018 and the Entertainment Technology program that relaunched this year with a curriculum that involves a pathway to Proctors Theatre and Fulton-Montgomery Community College, to the new Telecommunication and Network Cabling Technician program, which is a direct response to area business' request for trained employees.
Also highlighted by Dragone was the growing importance of the Pathways in Technology Early College High School (P-TECH) that was launched last year with the help of the Capital Region Chamber, as well as Tech Valley High School.