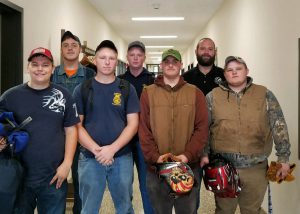 Congratulations are in order for Dahkeya King and Connor Fancher, two students in our welding program who recently took top honors at the 13th Annual Ag High School Day at SUNY Cobleskill.
King and Fancher distinguished themselves from competitors from across New York by performing two welds—a shielded metal arc butt joint and a shielded metal arc "T" joint—and on a written test of general welding knowledge. King placed first and Fancher placed third in the Sept. 28 competition.
Both Cobleskill-Richmondville High School seniors attend the BOCES Career and Technical Education welding program at the Center for Advanced Technology at Mohonasen.
"They did an excellent job. We are really proud of them," said CRB Welding Teacher Chris Panny.
In addition to welding challenges, Ag Day included other competitions, ranging from equipment operations to plant identification.
King and Fancher are among approximately five dozen students in the welding program offered at our Albany and Mohonasen career and technical education campuses. Students in this program learn according to American Welding Society standards and earn certifications that prepare them for a career in the welding industry.