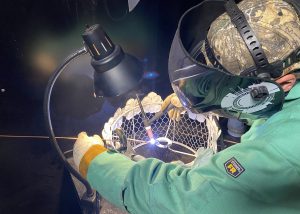 Some students may find school stressful, but not Duanesburg senior Ryan Potter—at least when he is attending the Welding and Metal Fabrication program at Capital Region BOCES.
"Welding is therapeutic to me," he said. "I relax and just think about what I am doing. No stress."
During a recent class in the Career & Technical School welding lab, Potter was making repairs to a metal lampshade that belongs to a family member.
"Welding is my favorite thing to do. It's relaxing," he said. "The best part of the day is being able to come here in the booth and just relax."
Potter is among more than 65 students enrolled in the two-year program that is taught in two labs at our Career &Technical School. Students in the program learn American Welding Society standards and earn certifications that prepare them for a career in the welding industry.
Recruitment Now Underway
Recruiting is underway for the 2022-23 school year. The year will be highlighted by the opening of a new, state-of-the-art Career and Technical School, Albany Campus that will house nearly all programs. The Schoharie Campus will also remain open providing numerous opportunities for students in the southwestern reaches of Capital Region BOCES.
Learn About Our Career & Technical Education Programs
The  Welding and Metal Fabrication program is one of more than 40 programs offered on one of three campuses for high school students. Learn about the many courses available to through our Career & Technical School.