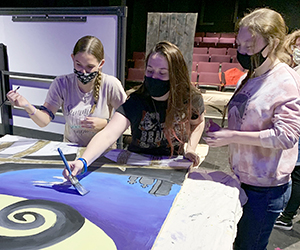 High school students interested in a career in theatre or movie productions have two opportunities during February 2021 to learn about our Entertainment Technology program while touring the historic Proctors Theatre.
Open house events are scheduled for Feb. 10 and Feb. 24, 2021 from 9 a.m. to 1 p.m. at Proctors Theater, located at 432 State Street in Schenectady, NY.
During these events, students will meet with teacher Jeff Knorr and Proctors officials, tour the main- and back stage areas of Proctors, and learn about our two-year program that prepares students for careers in the arts.
"I've always been active in theatre and I chose this program to take a different look and gain insight on what goes on backstage," said current student Noel Lyman.
Students in our Entertainment Technology program learn about the many jobs and the skills needed to work in the entertainment industry, including set design/carpentry, lighting/stage electrics, sound design/recording, costuming, stage management, film/media, and more.  Students can earn up to 16 college credits at Fulton-Montgomery Community College (FMCC) through the program.