Next virtual career fair for Capital Region BOCES Adult Nursing students is June 2.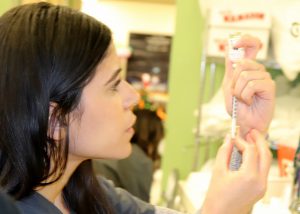 During our first-ever virtual career fair, more than 130 of our Adult Practical Nursing students who are scheduled to graduate and enter the workforce this June got to meet with area healthcare providers and learn about job prospects. 
This new format for our annual in-person career fair was the result of quick work by our teachers, staff, administrators and the Northeastern Regional Information Center (NERIC) to create an event that honored Covid-19 safety and social distancing precautions.
"This is a first for us, but in times of crisis, ingenuity becomes a key tool for success," said Paula Negri, principal of the Health Careers Center. "This is a win-win for everyone. Healthcare providers around the globe are in need of nurses and we are providing our students with a way to meet those employers."
Students who have already participated in the virtual fair say they appreciated the opportunity to find work at a time when in-person meetings and recruiting cannot occur.
"I am getting a lot of helpful information to think about and to use to decide where I want to go," said nursing student Rebecka Radliff of Cobleskill.
During the events, students are able to meet in groups and one-on-one with each employer's WebEx rooms, learn about the healthcare providers, get links to employment applications and even receive career advice.
"I am imagining that they are stopping by my table as we talk in these virtual rooms," said Michelle Rearic, business office manager with Ingersoll Place Assisted Living, after meeting with six students.
Of this new format, Rearic said virtual career fairs offer a unique insight into prospective employees — and employers.
"You get to see a lot different sides of people that you wouldn't see behind a recruiting table. I like to be in person to talk to people, but this is a great alternative given the times we are in."