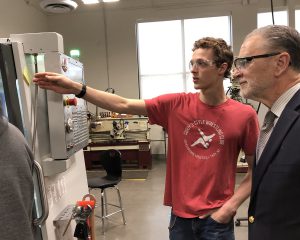 Our Commercial Construction/Heavy Equipment and Manufacturing and Machining Technology programs have been designated as "Quality Career and Technical Education Programs" by the National Research Center for Career and Technical Education at the Southern Regional Education Board (NRCCTE).
The NRCCTE, along with the New York State Education Department, are working to identify a small, representative sample of "high quality" career and technical education programs.  In early April, a research team from the Georgia-based organization visited the programs at the Center for Advanced Technology @ Mohonasen and on our Schoharie campus—both were found to be "high functioning." The NRCCTE team will also visit 28 other programs across the state.
The designation and accompanying research into our program by NRCCTE will be used as part of a national effort led by J.P. Morgan-Chase to expand high-quality, career-focused career and technical education programs. The result of the study, as well as the recommendations for expanding career and technical education, will be presented to the New York Board of Regents. State funding for career and technical education programs will also be guided by the study's findings.
"It's a great honor to have these programs recognized," said Dr. Valerie Kelsey, deputy director of Career and Technical Education. "Like the rest of Capital Region BOCES' offerings, the Commercial Construction/Heavy Equipment and the Manufacturing and Machining Technology programs do an exemplary job of preparing students for in-demand careers. This designation underscores our commitment to ensuring students successfully navigate to the next phase of their lives."