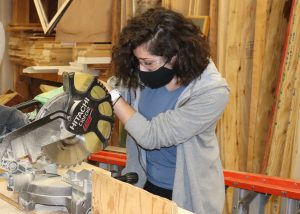 Twins Cora and Isabel Tribunella are looking to build a successful future for themselves through training in our Building Trades program. In the process, they're hoping to challenge the public image of who can work in the industry.
"For me, I think it's important to get out of your comfort zone," said Cora during a recent class. "One of the reasons I came here is because it's not typical. Some people come up to me and say, 'What are you doing there?' Other people come up and say 'That's so cool.' "
Building Trades Teacher Paul Roberts said there have been only a few young women in the program over the years. This is reflective of national data that shows women make up just nine percent of the construction workforce.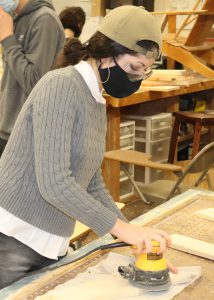 "I think it's great we are not going into a field that people might think we should," said Isabel.
The Tribunella twins sought out a career in the trades after seeing the success their brother Roman, a recent graduate, had with our Electrical Trades program. They also wanted to establish themselves on a career path that taught them skills and gave them an opportunity for a career straight out of high school.
"Our brother really inspired us to consider BOCES," explained Cora. "I knew that electrical trades wouldn't be for me, but we came here and checked out the different programs. We spoke to students in this program last year and we loved it."
Though only a few weeks into the Building Trades program, they are excited about what lies ahead.
"I like learning a lot of different skills that can be used in different areas of the industry, whether we go into construction site work or go into making custom cabinets," said Isabel. "I am really enjoying learning these skills and challenging what people think."
October is Careers in Construction Month (CICM) – a time set aside nationally to increase public awareness, inspire the next generation of craft professionals and make an impact on the perceptions of a career in construction. Capital Region BOCES is taking the opportunity to highlight not only its own construction programs, but also what drives its students possess to succeed as they build their own futures in the industry.