Twenty Capital Region BOCES Career and Technical Education students showed their in-depth knowledge of the skilled trades and earned medals at the regional SkillsUSA competition Thursday, March 17 in Schenectady and Albany.
The seven first-place winners and many other medal winners earned their way to the state SkillsUSA competition in Syracuse next month.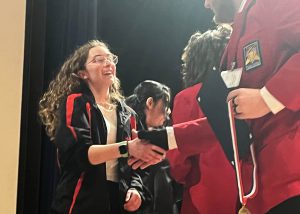 The student competitors, who hail from school districts as far-reaching as Bethlehem and Cobleskill-Richmondville, showed expertise in areas as diverse as carpentry and commercial baking, diesel engine repair and network cabling. They competed against their peers from Questar III and several other BOCES during a day filled with events at Schenectady County Community College (SCCC) and the Career & Technical education Center – Albany Campus.
The state SkillsUSA competition will be conducted in late-April at the New York State Fairgrounds in Syracuse. Winners of that event will advance to the national competition in June.
"Congratulations to our scholars. They all did a fantastic job and we are very proud of them," said Deb Toy, advisor at the SkillsUSA organization on the Capital Region BOCES Career & Technical Education Center – Albany Campus.
Shelette Pleat, principal of the Career and Technical Education Albany Campus and a regional SkillsUSA administrator, told the SkillsUSA competitors from across the region that they are helping to change the world's opinion about the skilled trades and a career and technical education.
"When you are a part of SkillsUSA, you are helping to change the narrative about what it means to have a career and technical education. Be proud of that," she said.
Students said they are excited by their medals and many are looking forward to the state competition.
"It pretty surreal. I am looking forward to going to states and exceeding my limits," said Demari Perkins, a first place winner in the Extemporaneous Speaking competition. Perkins is a Network Cabling Tech/Smart Home Technology junior attending BOCES from Watervliet Junior-Senior High School.
"I am pretty excited about winning," said Sadie Plant, who took first place in the Advertising Design competition. "I learned a lot and I hope when going to states I can learn a lot more by learning from the other kids competing."
Plant is a junior in the Digital Media program from Berne-Knox-Westerlo (BKW).
"It feels good to win. I definitely got a lot out of what I put into it and I plan to go more in-depth when I get to states," added Ruby Sutphin, who took first place in the Job Skill Demo competition. She is a senior in the Cosmetology program from Shenendehowa who will attend Utica University in the fall for a degree in business.
This year's regional SkillsUSA medalists and prize winners, their home school district and the competition they placed in are as follows:
First Place
Allyson Bates, Cosmetology Senior, Cosmetology, Berne-Knox-Westerlo (BKW) Central School District
Emily Burdikoff, Photography Competition, Digital Media Program, Burnt Hills-Ballston Lake (BHBL)
Kyle Dafeldecker, Carpentry, Construction/Heavy Equipment, Cobleskill-Richmondville Central School District (CRCS)
Demari Perkins, Extemporaneous Speaking, Network Cabling Tech/Smart Home Technology, Watervliet
Sadie Plant, Advertising Design, Digital Media, Berne-Knox-Westerlo (BKW)
Ruby Sutphin, Job Skill Demo, Cosmetology, Shenendehowa
Emily Tice, Commercial Baking, Culinary Arts & Hospitality Tech, Guilderland
Second Place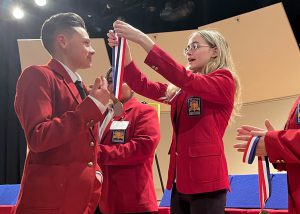 Landen Dayton, Auto Vehicle Maintenance Basic, Automotive Service Technology, Schenectady
Andrew Trowel, Carpenter Assistant Basic, Carpentry Services, Bethlehem
Gino Isabella, Job Interview, Network Cabling Tech/Smart Home Technology, Mohonasen
Ava Koonz, Nurse Assisting, Two-Year Sequence of Health Careers, South Colonie
Blae Kinzie, Prepared Speech, Machining and Manufacturing Technology, Mohonasen
Third Place
Robert Conners, Culinary Arts, Culinary Arts & Hospitality Tech, Ravena-Coeymans-Selkirk (RCS)
Pedro "Mateo" Sanchez, Food Prep Basic, Culinary Arts & Hospitality Tech, Guilderland
Angelina Depina-Desorbo Cosmetology Junior, Cosmetology, Duanesburg
Fourth Place
Tucker Cherry, Auto Service Technology, Auto Service Technology, Niskayuna
Ruby Culletto, Commercial Baking, Culinary Arts & Hospitality Tech, Sharon Springs
Fifth Place
Elaina McGrath, Cosmetology Senior, Cosmetology, Bethlehem
Tristyn Bushey, Culinary Arts, Culinary Arts & Hospitality Tech, Shenendehowa
Nicole Forbes, Job Interview, Digital Media Design, Duanesburg