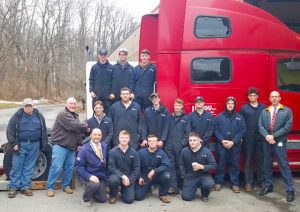 Diesel technology students now have a 2005 Cummins Volvo to learn with and hone their skills on thanks to a generous donation by Timco Transportation.
Company President Tim Adair also donated his time, towing the truck to our Albany Career and Technical School campus.
The diesel tech program, like every program at Capital Region BOCES, benefits from strong industry partners like Timco that donate equipment and advise faculty and administrators on the latest in technological advances in the industry.
"Our partners are phenomenal in providing opportunities for students to learn on the very same equipment they will be asked to repair when they graduate," said James Haas, work-based learning coordinator for Capital Region BOCES.
"Tim and Timco Transportation are partners for us and the entire region," Haas added.
Learn how to become one of the more than 300 business partners affiliated with Capital Region BOCES.