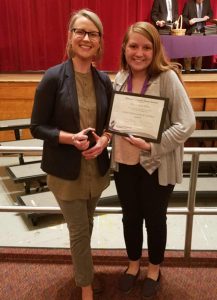 During her time with our New Visions: Health Careers Program at Ellis Medicine, recent graduate Allison Norris accomplished something few others can claim: earning a perfect 4.0.
Norris, an aspiring physician, is the first to earn the achievement in the college- and high school scholars' course at Ellis Medicine in more than decade, said teacher Erica Kane.
"I just learned better here… and was able to understand how the courses will apply to my future," she said.
And because of that, the Cobleskill-Richmondville teen is certain her future includes helping others.
This fall, Norris will begin pre-med coursework at the Albany College of Pharmacy and Health Sciences with an eye on becoming an emergency room physician. She will be aided in that pursuit by a $10,000 scholarship from the college available to New Visions: Health Careers students.
"I did a rotation in the ER with New Visions and liked the fast-paced environment there. I saw first-hand the environment in the ER and I fell in love with it. I like the pace and all of the problem solving, it's something new every day," said Norris.
Norris said she is extremely grateful she was selected to take part in the New Visions: Health Careers program.
"I love all of it. I love the environment, I love that everyone is mature and focused on a goal," she said.
She also said that she believes her New Visions experience has her well-prepared for life in college and a future in medicine.
"I wrote a 32-page lab paper for New Visions. That helped me understand the volume of work at college and I also have learned how to budget time… we had a lot of assignments piled on us at once and you had to learn how to handle them all," she said.
Kane said Norris is the "most academically committed and conscientious student" she has taught during her 15 years in the classroom. "Allison is the only student to have achieved (perfect scores) in the four years that I have been teaching this program at Ellis Medicine and only the second in the last twelve years it has been offered."
"Aside from strong academics, she is kind, compassionate, thoughtful and dedicated to helping her community.  While she may admit that she is shy, I have watched Allison tear down the walls of her comfort zone and truly immerse herself in the Ellis Medicine community.  She is going to be a rock-star medical professional one day. I am so incredibly proud of her," Kane added.