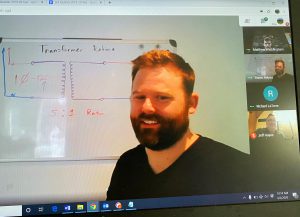 For educators at Capital Region BOCES Career and Technical School who are used to teaching skilled trades, healthcare, computer design and gaming in a hands-on manner, the ongoing COVID-19 public health crisis and related school closure has completely changed the way education is being delivered.
Students, more inclined and successful learning with their hands, are now working remotely via distance learning and in ways they likely couldn't have imagined a few months ago. The trick for their teachers has been to adapt to this very different way of teaching, and to find ways that keep the learning going — and relatable — despite the distance.
"Although the physical daily engagement can never be replaced, we have all managed to find ways to make for relevant instruction," said Culinary Teacher Chef Paul Dolan who has taught lessons from his food truck and challenged students to learn by using the Chopped TV show model.
"This has tested the lines between work and home," said Electrical Trades teacher Travis Relyea, whose children make occasional, unexpected guest appearances during his online classes. "While this was uncomfortable for me at first, my students' laughter in response to my children's smiles has helped ease things during this trying time."
"I have found that humor and humanity go a long way in the online classroom," added Internet Applications teachers Barb Gorbaty.
As teachers become more comfortable with previously unfamiliar approaches to delivering learning, they can see how some parts of the virtual classroom are useful and could stick around even after face-to-face learning is possible again.
"The craft of welding (and other skilled trades) is for the hands-on learner, so as technical school teachers, we have job security,'" said Integrated Science Teacher Amy Schrom. "I can see, though, how we could use remote learning for students who have missed class."
"I have been encouraged to see how the students are adapting to the online platforms in ways that suit them as individual learners, much as they do when we're together in the physical classroom," added Gorbaty.