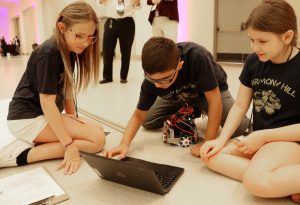 Even though their robot seized up on its course, fourth graders from Harmony Hill Elementary in the Cohoes City School District did not lose their cool. Instead, they assessed and fixed the problem (a wire wrapped in the robot's wheels had caused the jam) and got the robot back on track.
Problem-solving, teamwork and other essential real-world workplace skills were on full display when the students from the Cohoes City School District demonstrated their coding expertise, engineering abilities and grit at the Advanced Semiconductor Manufacturing Conference (ASMC) in Saratoga in May.
SEMI Americas, a global industry association serving the electronics manufacturing supply chain worldwide, invited the fourth graders and their teachers to present at the conference. SEMI has taken a lead role in the Robotics for Experiential and Applied Learning (REAL) program, a small pilot that first sprang from a partnership between our BOCES and GLOBALFOUNDRIES.
Cohoes City is among four area school districts, including Ballston Spa, Schoharie and Shenendehowa, to pilot the REAL program in its fourth-grade classrooms.
A top goal of this program is to grow interest in science, technology, engineering and math (STEM) in students at an early age through hands-on activities that include building robots and writing code to enable the robot to perform a task. The program also aims to reach a more diverse (gender, socioeconomic) and inclusive student audience and provide an affordable program that can be scaled up and made available to more schools.
"We are excited to be able to offer this first-of-its kind program to elementary schools in our districts," said Joseph P. Dragone, Ph.D., senior executive officer. "With no end in sight for job growth in the STEM industries, it is more important than ever to spark an interest in science, technology, engineering and math in our young students."
"This program offers an opportunity to introduce students to engineering concepts and technology with fun, hands-on activities," said Brenda Geis, Harmony Hill fourth grade teacher. "It is a fantastic program!" 
Technology as tool to solve real-world problems
At the ASMC conference, the 14 Harmony Hill fourth-graders students, which included eight girls and six boys, demonstrated how they built the robots from kits containing all the materials and necessary tools. Teacher Tracy Margiotta explained that once the assembly was complete, the students shifted their focus to learning code to program the robots — first with pencil and paper,  then on student-friendly coding websites. To increase engagement, teachers asked students to envision a real-world task for the robot to accomplish. Their goal? Delivering medicine to an ailing tiger in the zoo.
Working in small teams, the fourth-graders set about measuring and plotting the course. One team member then input the code they developed into a laptop. With a tap of the touchpad, the robot began navigating the course, pausing briefly to turn right or left according to the code. Conference goers watched in anticipation as the robot made its way toward the tiger's den and cheered as the robot reached its destination.
Mike Russo, SEMI's vice-president of global industry advocacy who initiated the partnership with Capital Region BOCES while at GLOBALFOUNDRIES, presented a glass plaque to the teachers and students to thank them for participating in the REAL pilot.
"The pilot program will yield important information," Russo said, "so that eventually it may be scaled up and offered to all fourth-graders giving them the opportunity to learn basic engineering principles and coding skills."