Winners of regional event advance to statewide SkillsUSA competition in Syracuse on April 24-26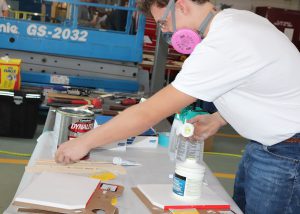 More than 40 students showcased their abilities and technical knowledge in a diverse array of skilled trades—from culinary and nursing to heavy equipment operator and more—at the recent regional SkillsUSA competition.
Capital Region BOCES Teacher Chris Shader said the regional competition is invaluable in terms of bringing like-minded students from Eastern New York together to learn how their skills measure up against their peers, and gives students an edge when seeking jobs.
"When an employer sees that a student competed or won at SkillsUSA they know they are getting a quality employee," said Shader.
For culinary competitor Karee Hildreth of Schalmont, the regional event is all about building skills and experience.
"I competed at SkillsUSA because I want to gain as much experience as I can before I go to college," said Hildreth, an aspiring restaurant owner.
This year's regional SkillsUSA medalists, their home school district and the competition they placed in are as follows:
First Place
Connor Mickel, Sharon Springs, Criminal Justice
Robert Dorrough, Schoharie, Precision Heavy Equipment Operator
Joseph Pederson, Burnt Hills-Ballston Lake (BHBL), Auto Vehicle Maintenance
Madelyn Tanzman, Shenendehowa, Extemporaneous Speaking     
Bryan Sidney, Voorheesville, Heating, Ventilation, Air-Conditioning and Refrigeration (HVAC/R)
Madison Hurley, Schalmont, Job Interview
Tyler Blackman, Scotia-Glenville, Prepared Speech
Megan O'Toole, Voorheesville, Restaurant Service
Team of Thomas Cressimanno, Middleburgh, Jon Philipp, Cobleskill-Richmondville and Paiten Smith, Cobleskill-Richmondville, Crime Scene Investigation
Second Place
Annette Domanski, Cobleskill-Richmondville, Commercial Baking
Matt Furlong, Voorheesville, Carpentry
Emily Elsis, Middleburgh, Precision Heavy Equipment

Alyssa Valentina, South Colonie, Cosmetology

Logan Berube, Mohonasen, Diesel Equipment Technology
Angelo Carino, Guilderland, Food Prep
Dahkeya King, Cobleskill-Richmondville, Welding
Third Place
Sidney McClintock, Berne-Knox-Westerlo, Auto Service Technology
Isidro Santiago, Cobleskill-Richmondville, Culinary Arts
Robert Witzke, South Colonie, Carpenters Assistant
Conor Metz, Cobleskill-Richmondville, Carpentry
Tatiana Rivera-Truesell, Cohoes, Commercial Baking
Mark Molesky, Schoharie, HVAC
Dinesh Gobinlall, Schenectady, Welding
Fourth Place
Patrick Hoop, Middleburgh, Auto Service Technology
John Dolezar, Schenectady, Action Skills
Tim DeCelle, Cohoes, Collision Repair Technology
Taylor Lang, Ravena-Coeymans-Selkirk, Culinary Arts
Team of Emily Pinson, Bethlehem, Kierra Balir-Leak, Cohoes, Raven Bryant, Schenectady, Promotional Bulletin Board
Fifth Place
Matthew Tyree Jr., BHBL, Automotive Service Technology
Greg Krosky, Scotia-Glenville, Collision Repair Technology
Zach Lawrence, Duanesburg, Criminal Justice
Shane Campbell, CRCS, Food Service Basic
Karee Hildreth, Schalmont, Restaurant Services
Christina Cummings, Shenendehowa, Cosmetology
Kevin Karlock, Niskayuna, Job Interview
Daniel Carota, Cohoes, Related Technical Math
Raymond Lee, South Colonie, Welding
SkillsUSA is a national organization for career and technical education students. Besides hosting the local, regional, state and national competitions, the organization promotes students' personal and professional growth.