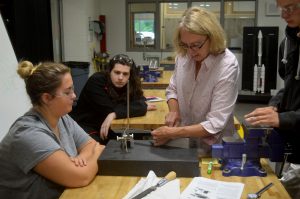 More than 1,000 new and returning students at our three Career & Technical School campuses began the school year on a path toward earning the skills and industry connections that will position them for jobs in some of today's most profitable and in-demand careers.
From manufacturing technology and cosmetology to automotive service and health sciences, such as nursing and sterile processing, students in our Career & Technical School classes are embracing "middle skills" coursework that will have them job-ready once they leave their high school years.
About 60 percent of the job openings in New York state are classified as "middle skills" — those that require more than a high school diploma, but less than a four-year college degree — but fewer than 40 percent of the available workforce have those skills.
"I am looking to build opportunities for the future," said Calum Abbenda, a student from Schalmont who is attending our new Engineering Technology program.
For Emily Potts this is an opportunity to position herself for work upon graduation from high school in a field she is passionate about.
"I do a lot with theatre at Mohonasen and I want to be more well-rounded and learn the skills I'll need for this career."
Interested in jump-starting your career during your high school years? Check out the more than 40 programs we offer students interested in career training.