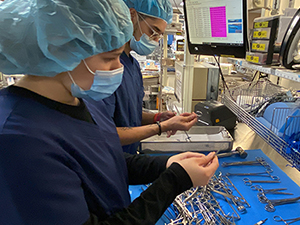 In our Sterile Procession Technician program, students learn by doing—observing on-site how staff at Albany Medical Center sterilize equipment for medical procedures and helping prepare some equipment with guided supervision.
During a recent visit to the hospital, senior Xavier Reyes from Cohoes and junior Vanessa Solivan from Schenectady prepared a surgical "kit" for orthopedic surgery, while classmates Lily Trano of Duanesburg and Gianna Sacca of Shenendehowa prepared other medical instruments nearby.
"Studying sterile processing and doing work-based learning is great because you gain experience in the real world and work with new people while learning new skills," Trano said.
Teacher Jeff Landry, who is also a supervisor in the Sterile Processing Department at Albany Medical Center, said the work-based learning at the hospital introduces students to the daily rigors of the work while allowing them to gain insight from experts in the field.
"There is no better education than working with people in the field and doing the work," said Landry.
The two-year Sterile Processing Technician course is open to high school students in the Albany, Schenectady and Schoharie county region who send students to Capital Region BOCES.
The program prepares students for careers in a field that serves a vital role in the health care industry: combating the spread of hospital-borne illnesses, as well as diseases. Sterile processing technicians decontaminate, inspect, package and sterilize equipment and devices used in health care. These items can range from very complex medical devices to simple hand-held surgical instrumentation and are essential to patient care and successful patient outcomes.
"I want to be an autopsy technician," said Sacca. "At BOCES I am gaining experience in the medical field and learning skills that will help me pursue that career."
Students Emily Hainey, Alison Bowen and Lindsey Brown—all from Middleburgh—said they are hoping their Sterile Processing program education and work-based learning will position them for future careers at Albany Medical Center.  
"I hope to get a job here when I graduate. Making a set of surgical equipment is fun and there is a certain satisfaction in knowing you are helping someone," Hainey said.
Expanded Opportunities for Learning in 2022-23
The future is bright for our students.
A new, state-of-the-art campus is slated to open for start of the 2022-23 school year. This will become the home for our Sterile Processing Technician program and others currently located on our Career and Technical School, Albany and Center for Advanced @ Mohonasen campuses.
Recruitment Now Underway for 2022-23
Interested in earning skills for one of today's in-demand careers? Want to do it your own way? Students in our component districts are encouraged to explore our Career and Technical School and its 40+ offerings.
Learn about upcoming open house events at our Career & Technical Schools and plan to visit with us soon.